Amy Perring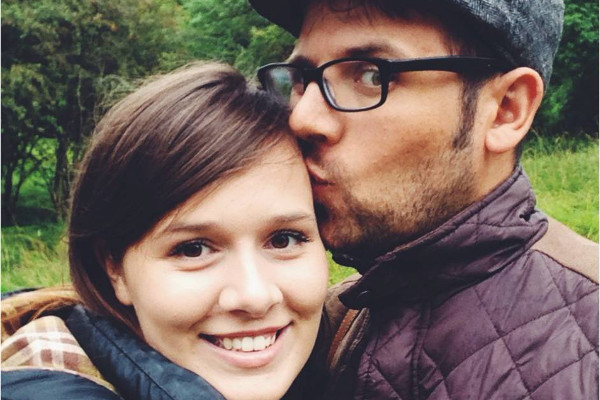 The road to recovery is not a linear process
by Amy Perring
On Valentine's Day in 2012, Amy Perring met rugby journalist Will Wood, from Gloucestershire, while on holiday in Dublin and their love quickly blossomed. Little did the couple know their relationship would soon be put to the test just one year later when Will suffered a near-fatal brain injury that changed the course of their future in an instant.
Amy Perring, 23 and from Cheltenham, was living in Bournemouth with her family when she received the devastating news that Will had suffered a severe brain haemorrhage. The 30-year-old reporter had been lying unconscious in a street in Gloucestershire for more than three hours before he was found by a passerby and rushed to the intensive care unit at Cheltenham General Hospital.
"Will and I had just come home from celebrating our one year anniversary in Jersey when I got the dreaded phone-call explaining what had happened," recalled Amy.
"I went into a state of complete shock, and my parents had to drive me 130 miles across the country to the hospital in Gloucestershire where Will's family, including his sister Laura, had already arrived at the hospital.
"It was very painful to be told by doctors that, if Will wakes up, the best we can hope for is that he is paralysed down his left side."
Amy never left her partner's side, and she never gave up hope that Will would eventually show signs of improvement.
Will was eventually transferred to Frenchay Hospital, in Bristol, where he underwent brain surgery. Even though the operation was a success, Will was to spend the next two-and-a-half weeks of his life in a coma.
"It wasn't until nearly four weeks later that Will was transferred to Gloucester Royal Hospital to begin what turned out to be a difficult and very tiring process of rehabilitation after his brain injury," said Amy.
"He slowly began to regain consciousness, but he was partially-paralysed down the left-hand side of his body, and we were still unsure whether or not it would be the same Will waking up.
"The thing I found really hard was the hospital visiting hours - to have your time dictated by two hour visitation slots is very emotionally draining. My primary aim was just to get him home, back into his own space where everything was familiar. We have always been so independent, and I was keen for us to become our own unit again after the incident.
"But we were thrown into the world of brain injury and it's extremely hard as every injury is different. The road to recovery is not a linear process."
Nearly six months later Will was finally strong enough to return to his family home in Leister. Amy was quick to cast aside her dreams of beginning a teacher training course so that she could move into the house and help to provide the around-the-clock care her partner needed.
She soon became Will's primary carer, helping him relearn the basic everyday tasks he once took for granted, including how to walk and eat independently.
"Since his brain injury, I have always pushed Will to improve," said Amy. "However, he has had several falls and two fits since leaving hospital and, as doctors still do not know what is causing the episodes, it is important to carefully gauge what targets are attainable.
"Will's memory has also been affected by the brain injury, but he remarkably remembers how to write in shorthand, which he learned when training to become a journalist.
"Together, we started up an online blog called From Reporter to Supporter, which acts as a memory aid and allows Will to document his progress throughout the ongoing rehabilitation process.
"Will calls me his 'Positive Perring' as I come from a family that always tries to look on the bright side of life. I constantly try to reinforce to Will that every day is a new day and that we will get through anything together."
Today, Amy and Will are members of Headway Gloucester, and this year Will even completed a six month media course through the Headway group, which helped him rediscover his writing skills after brain injury and served as a key step towards Will rebuilding his career as a journalist.
Read Will's blog: http://www.fromreportertosupporter.com