Eleanor Simcox
'It meant I could breathe'
by Eleanor Simcox
Imagine being unable to afford to travel to be by the hospital bedside of your partner as they lie in a coma having sustained a brain injury? For Eleanor Simcox, and hundreds of others across the UK, this nightmare became a reality.
"I was in bed when I heard a bang," said Eleanor, from Dawlish in Devon. "I quickly got up and found my husband Mark lying at the bottom of our stairs. He was unconscious and had blood coming out of his ear.
"It was at this point that adrenaline must have taken over and auto-pilot kicked in. I set about clearing his airway and putting him in the recovery position.
"It was a very long 25 minutes before the ambulance arrived and it was only when they turned up that the gravity of the situation hit me. That is when my legs turned to jelly – I could barely stand up."
The ambulance took them to their local hospital in Torbay, but after a CT scan revealed a blood clot, he was transferred to the South West Neurosurgery Centre at Derriford Hospital – a full 55 miles away.
Surgeons performed a craniotomy and removed a piece of his skull to relieve the pressure in Mark's head.
He was in a coma for 10 days and remained in hospital for three weeks. During the first few weeks of his treatment, Mark suffered from post-traumatic amnesia and was left with a memory of only three minutes. It was at this point that Eleanor heard about the Headway Emergency Fund.
She said: "My sister was doing some research and told me about Headway. I rang the helpline, who were fantastic, and they told me I could apply for financial help through the fund.
"This was a massive help. Mark had just left his old employers and the day before the accident he had just finished his training to become a fireman but wasn't receiving any income. That meant that the only money the family had coming in was through my part-time job working at a pub.
"The fund gave me the space to cope"
Some of the family's funds were also in Mark's bank account, which Eleanor couldn't access at the time.
"It was a very stressful time," said Eleanor. "I was down to £107 a week. My boss was very kind to give me an advance on my wages, but this money was soon eaten up.
"I really struggled to support and visit Mark. It was a 110-mile round trip, which I would sometimes have to do twice a day as I had to come home to look after my boys and then go back to Mark in the evening.
"The fund was vital to me in those dark moments. It eased the financial pressure at a very stressful time. I could concentrate on being there for Mark but also making sure I could be a mummy to my boys, Joshua, who's seven, and three-year-old Lewis.
"The fund gave me the space to cope – it meant I could breathe."
Eleanor said she was also very thankful for the support other Headway services provided to her.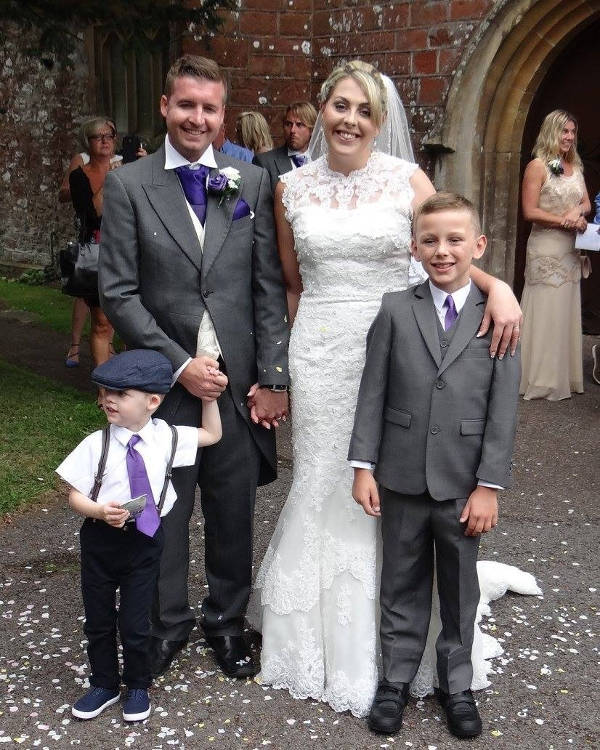 She said: "I got so much help from Headway's helpline and the charity's booklets. Not to mention the website, to which I refer daily. It has helped me learn so much about what Mark is going through and is a constant source of information and comfort."
"We are hoping it gets better as time goes on, but more than anything, we are just glad he's still here."
Mark's accident has left him with a number of issues, including memory problems, bouts of dizziness and headaches, but Eleanor remains hopeful about the future.
"His memory is not great," she said. "He will forget things a lot, even when it's something you've just told him five or ten minutes previously, but it's obviously a lot better than when he was in hospital.
"We are in touch with the neurosurgeons and consultants at the moment, trying to figure out what's going on with his headaches. We are hoping it gets better as time goes on, but more than anything, we are just glad he's still here."
About the Headway Emergency Fund

The Headway Emergency Fund exists to help families cope with the sudden practical implications of brain injury.
Since it was launched in 2014, the Emergency Fund has helped more than 1,150 families, and provided more than £240,000 in grants.
Anyone can apply for the Emergency Fund via a form on the charity's website. Many referrals to the fund coming from the Headway helpline or the Headway Acute Trauma Support (HATS) nurses, while applications can also be submitted by support workers and qualified professionals on behalf of brain injury survivors.
The majority of the approved applications are to help people with the cost of travel to visit loved ones, with 76% of all grants falling into this category.
Click the link below to find out more and make an application.