John Holbrook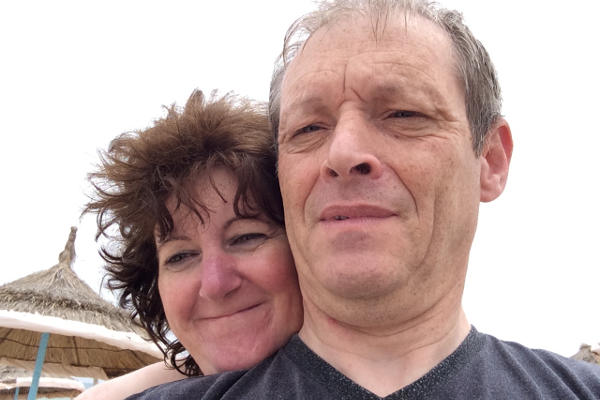 "The sneeze was very memorable for me"
by John Holbrook
Ex-Premier League linesman John Holbrook rarely suffered headaches even when trying to keep some of the sport's top stars in line, but with a simple sneeze, that all changed.
John, who spent more than 17 years officiating at the very top of his profession, said the sneeze not only marked a turning point in his life, but was also the last time he felt completely normal.
Unknown to John, it marked the beginning of a series of events which would eventually lead to him being diagnosed with a subarachnoid haemorrhage.
"The sneeze was very memorable for me because it was the last time I felt completely well after 56 years of life," recalls John.
"I don't get headaches, not even mild ones, so to get such a sudden painful headache was very worrying. This worry was greatly amplified when I started to vomit."
John's wife rang NHS Direct but after its staff tried to persuade her it was a simple headache, she decided to take him to the nearest A&E department 18 miles away.
John said: "Hearing her on the phone would be my last memory for four months.
"I certainly cannot recall the stressful journey to the hospital in which the police pulled my wife over after noticing her P-reg Nissan Micra headlights fusing on and off.
"The police apparently saw me throwing up in the back seat, and after hearing her story, provided an escort for us to A&E. What a wonderful thing fate is when it works for you."
After a two hour wait in Worcestershire Hospital's Accident and Emergency, John was assessed and quickly transferred to Coventry Hospital where he was placed in an induced coma.
Critical care
He said: "With my wife by my side, I spent four weeks in a coma in critical care with tubes and machines everywhere. The first week she either slept in the chair next to me or in the relative's room.
"She recounts walking back into the ward and seeing an army of doctors and nurses around me. I was having a heart attack.
"They tried to remove her but became sympathetic to her plea, to let her stay. I have since discovered, by reading my medical history notes that my employers asked for, that as well as a heart attack and haemorrhage, I also had kidney failure, pneumonia and meningitis."
John's head still bears the scars of the three surgical interventions that were needed to reduce the pressure on his brain and eventually allow him to begin his recovery.
He said: "My body, helped by the NHS and the love of my family, brought me out of the coma. I say my body, because I take no credit for it, my conscious self had no input into the recovery. I like to think that a general good level of fitness contributed to the outcome though."
John was in and out of hospitals for months following his initial discharge, and later learnt that he had also suffered a second haemorrhage – only weeks after his first.
Following his treatment, John has been left with a number of complications, including hydrocephalus, fatigue, dizzy spells and problems with managing his emotions.
"To get a letter back saying my application had been accepted, not at standard terms, but enhanced, should have been reassuring. But instead, it sent me totally over the edge into fits of tears."
These symptoms have meant he cannot return to work, and has had to come to terms with having to apply for state support, as well as the new found consequences of his injury.
He said: "Still needing to support my family, I reluctantly applied for Personal Independence Payment. I was pretty confident that my injuries and limitations were not severe enough to qualify.
"To get a letter back saying my application had been accepted, not at standard terms, but enhanced, should have been reassuring. But instead, it sent me totally over the edge into fits of tears. I saw it as confirmation that I had now acquired a disability. I knew I was a wreck compared to my former self, but now someone else agreed."
John said he had found the information on the Headway website to be very useful in his recovery and was also thankful for the help he received from his local group Headway Worcestershire. It offered him support and organised for him to be assessed by an occupational therapist.
In an effort to thank staff, John recently returned to visit the critical care ward that saved his life.
He said: "My wife and I both toured the ward together; we haven't been more than fifty yards apart in eight months.
"As I turned to share my thoughts with her, I realised that she had turned to face the corner of the room, tears streaming down her face and she was struggling with her breathing.
"She had been transported back in time to when she walked in and I was having my heart attack. Machines flashing, alarms sounding, doctors and nurses trying to save my life. How inconsiderate had I been, it wasn't my illness, it was, and still is, ours.
"We have both been on a journey of recovery, but because of my memory loss, hers has been four months longer than mine, and she remembers the bad bits."
Can a sneeze cause a haemorrhage?
Colin Shieff, a Consultant Neurosurgeon and trustee of Headway – the brain injury association, said: "A haemorrhage may happen with or without any other obvious association, and the majority do not have any obvious precipitant event.
"However, it is recognised that physical exercise, emotional stress, or trauma such as whiplash or a direct blow, can trigger a haemorrhage. Indeed, even a simple sneeze could cause a haemorrhage, although such as occurrence would have to be considered as extremely rare.
"The main thing to remember is to seek help if any severe or intense headache occurs which doesn't respond to simple pain relief medication."