Pancake party
Everybody loves pancakes, so we're asking people to hold their own pancake parties on or around Shrove Tuesday (13th February 2018).
This is a great way to raise money for brain injury survivors, whether this is a single fundraising event or to help you fundraise towards a bigger event such as the Virgin London Marathon or climbing Kilimanjaro.
Click here to donate to our Pancake Party or create your own page for the campaign!
We recommend a donation of £1 per pancake or charging people to attend the event. Make sure you give people plenty of opportunities to donate during your party! If you would like to request a pop-up money box for your event please contact the fundraising team on fundraising@headway.org.uk or 0115 924 0800.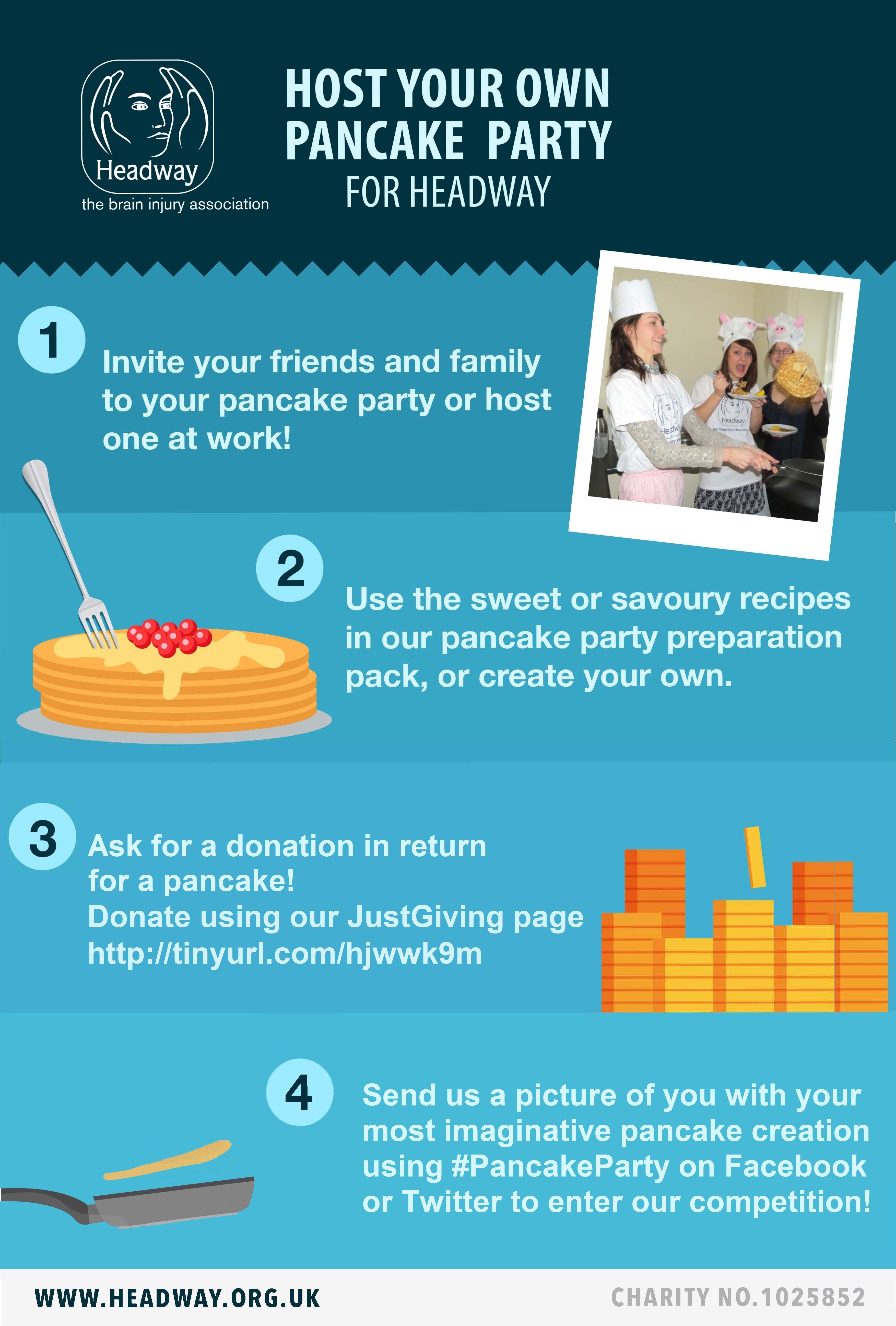 Pancake Party Preparation Pack
We've put together a selection of resources and recipes to help get your pancake party off to a great start!
You can get some basic ideas below, and download the document at the left of the page for more creative ideas. You can also buy pre-made pancakes from most supermarkets which you can simply warm in the microwave and add your favourite toppings.
Traditional pancake recipe
The traditional pancake is thin and crepe-like and the true pancake of Shrove Tuesday. Making pancakes is so quick, easy and cheap, but make sure you make plenty, they are always very popular!
Ingredients - Makes approx 12 pancakes
225g plain or all-purpose flour
Pinch of salt
2 large eggs (beaten)
600ml milk
2 tsp melted butter or vegetable oil plus extra for cooking
Method
Sieve the flour into a large baking bowl, add the salt. Make a well in the centre of the flour and add the eggs. Beat well until smooth and lump free.
Add half the milk and the 2 tsp of butter or oil, beat well. Add the remaining milk and stir.
Leave the batter to rest for 15 minutes.
Lightly grease a pancake pan or frying pan with a little oil or melted butter. Heat until very hot and add a ladleful of batter so it evenly and thinly coats the base of the pan. Cook until set and lightly golden.
Turn using a spatula, or if you are really brave try tossing the pancake in the air and cook on the other side for approx 30 seconds.
Download our Pancake Party Preparation Pack for lots more tips, recipes and party ideas!
Safety
Cooking pancakes can be a challenge - there are a number of ingredients to measure and mix, and the frying pan and cooked pancakes will be very hot. If you have any concerns it's best to ask a friend, relative or support worker to help you.
Additionally, some types of flour and toppings may be unsuitable for people with food allergies or who are on specialised diets. Seek advice if you are unsure.