My Prudential RideLondon
A virtual cycling challenge to help save the UK's charities
Get on your bike – or scooter, skateboard, tandem, penny farthing, trike, unicycle – and join the free My Prudential RideLondon event to help save the UK's charities on 15-16 August 2020.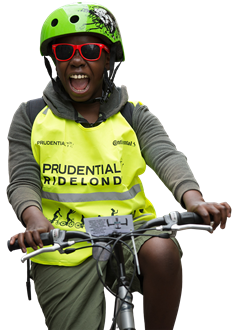 Covid-19 has had a devastating impact on charities, with thousands of fundraising events cancelled including Prudential RideLondon. But the good news is, you can still support Headway by taking on RideLondon virtually.
We'd love you to be a part of it! To join simply follow the steps below:
Register: Visit myridelondon.co.uk and select your challenge. There are three cycling distances to choose from, or you can invent your own.
Fundraise: Set up your fundraising page for Headway on Virgin Money Giving.
To show our gratitude to our wonderful fundraisers, participants who raise over £200 for HeadwayUK will receive a £50 discount on a limited edition, Headway HedKayse Helmet. Participants who raise over £500 for HeadwayUK will receive a free HedKayse cycle helmet worth over £100.
Participate: Set your wheels in motion and complete your challenge anywhere, at any time, over the weekend of 15 and 16 of August!
Nominate: Encourage your family and friends to take part. Spread the word on social media too by using the hashtag #MyPRL when posting about the event.

Disclaimer: Hedkayse have donated helmets to Headway – the brain injury association to help the charity to raise funds towards achieving their mission of improving life after brain injury. This is not an endorsement of Hedkayse or their products by the charity. A limited number HedKayse helmets will be issued to fundraisers who raise over £500 for HeadwayUK on a first come first served basis.