Pay for a Day
Urgent COVID-19 fundraising appeal
Brain injury survivors need us, and we need you to help us support them.
The Coronavirus pandemic is unlike anything we've ever had to face. As a charity that relies on voluntary donations, the weeks and months ahead are going to be challenging. Our charity shops have temporarily closed, and fundraising events have been cancelled meaning we are anticipating a potential drop of £2 million in income this year.
However, brain injury survivors and their families need our support today. Please help Headway to continue to provide just one of our many vital services by paying for a day of running our Helpline.
You can fund a full day's running costs for just £558.
The demand for the Headway helpline grows every year so we need your support now more than ever! By funding this valuable service, you will help us continue to provide support to the thousands of people who rely on the helpline each year.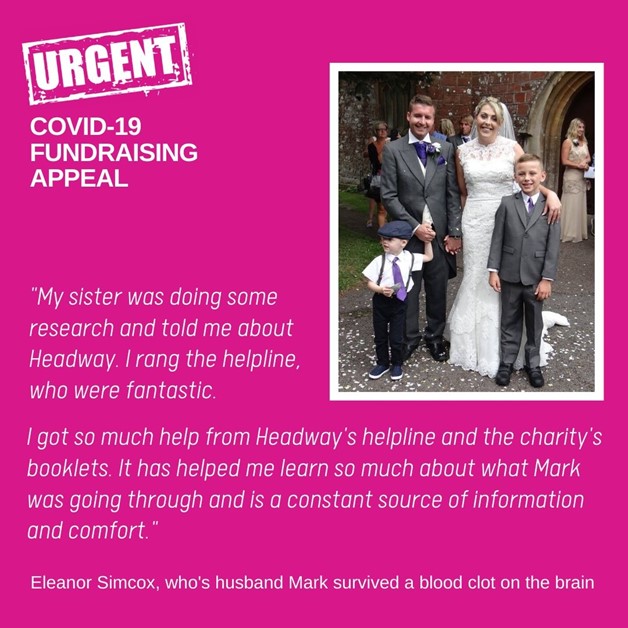 Our gift in return
In return you will receive a personalised, environmentally friendly e-card to share with your network to share your support of our services at this challenging time, as well as a thank you on our popular Twitter page to over 23k followers.
How you will help
You will be supporting our nurse-led, freephone helpline which answered over 11,200 enquiries in 2019 (a 33% increase since 2015)
The funding will go directly to the helpline to support individuals and their families and carers
You will help to ensure our callers are supported emotionally and practically, throughout their journey with brain injury
Simply use the form below, complete the details for your e-card and a Headway representative will be in touch.
For further details please contact us on partnerships@headway.org.uk or 0115 855 0511.
Register now
To take part in Pay for a Day, simply complete the form below:
---