Our supporters
Trusts, foundations and statutory bodies play a significant role in helping Headway to reach and improve the lives of people with brain injury, their families and carers across the UK.
We encourage long standing relationships, welcome visits to the Charity and can demonstrate the direct impact of these invaluable contributions through a number of success stories from our front line services that operate nationally.
The Headway helpline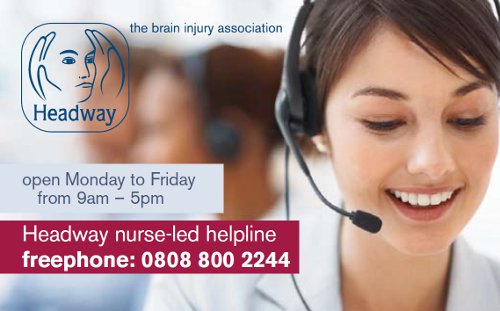 Responded to 8,414 helpline calls and emails in 2015, acting as a lifeline for distressed brain injury survivors and their carers.
Supported by the Bernard Lewis Family Charitable Trust, Javon Charitable Trust, the Sobell Foundation and the February Foundation.
Headway training and information services
Provided 53 free training sessions in 2015 to 472 individuals anxious to understand brain injury and gain invaluable strategies to improve everyday life and ultimate independence for survivors.
Issued over 170,000 free, downloadable factsheets in 2015, along with additional information booklets (many accredited by the BMA). ]
Hosted 732,731 visitors to our website looking for easily accessible, understandable and reassuring information at the most appropriate time
Supported by the Santander Foundation and the Henry Lumley Charitable Trust. 
Network Support Coordinators across the UK and Channel Islands
Supported 14 Regional Co-ordinators who service 118 Headway affiliated Group and Branches. These look after 35,000 service users across the UK to ensure local support is readily available to prevent isolation and further vulnerability
Supported by the City Bridge Trust, Ballinger Charitable Trust, George A Moore Foundation, Barbour, Sir James Knott Trust, Ballinger, Leeds Building Society and Crerar Hotels Trust.
The Headway Emergency Fund

Since 2011, this Fund has helped 922 families with the practical and financial implications of sudden catastrophic brain injury.
Supported by the Stewarts Foundation.
Bradbury House: Our home

After three decades, Headway finally has a home of its own. The Edwardian-style building, in Old Basford, Nottingham, is set within mature tree-lined gardens and provides spacious, high-quality space for offices, a training centre and new helpline facilities.
Supported by The Bradbury Foundation, The Stavros Niarchos Foundation, The Henry Smith Charity, The Bernard Sunley Charitable Foundation, The Palgrave-Brown Foundation, Garfield Weston Foundation, Kirkby Laing Foundation, Rank Foundation.
The Justice for Survivors Programme
Headway's Justice for Survivor programme is an ID scheme including an early alert and intervention system to provide appropriate support when misunderstandings occur in everyday life through brain injury.
Supported by the Persula Foundation and the Worshipful Company of Security Professionals.
Volunteer Support
In the last year, our volunteers have given us over 43,000 hours of their time.
Supported by the Sir John Eastwood Foundation, JN Derbyshire Trust and the D'Oyly Carte Charitable Trust.
Support from statutory bodies
Our institutional funder have provided us with multi-year funding to support families in Wales, Scotland and Northern Ireland and our processes are well polished to withstand the rigorous investigation from these funders.
Supported by the Welsh Government, the Scottish Government, the Big Lottery Fund Northern Ireland and the Health and Social Care Board, Belfast.
The Headway website
Headway receives free and reduced rate licences from a number of companies that provide services to underpin our website, including Salesforce, Zapier and Wufoo. 
The website was built by MEDIAmaker. 
Get involved
Whatever the size of your organisation, you can help us make a positive impact on families with complex neurological problems by choosing to:
Donate towards one of our network support coordinators in your preferred region
Support one of our projects above
Allow us to use your donation unrestricted, as and when it is most needed
In return, we will keep you updated on the outcomes from your donation and can arrange visits to the project or events in your area.
Contact our Trust Officer on 0115 924 0800 or trusts@headway.org.uk to discuss how to contribute and the projects that will benefit directly from your support.
Whatever the size of your donation, your money will help us to continue providing vital support and relief and to improve life satisfaction for people whose lives have changed in an instant.
Get in partnership with Headway. With us, great things can be achieved!