Hard Hat Awareness Week

14th - 20th June 2021
Hard Hat Awareness Week was introduced to drive awareness of brain injury through a series activities designed to encourage best practice around safety equipment. Information is also provided to improve knowledge of what to do if a brain injury does occur.
Construction sites without the correct protection can potentially be very dangerous places, especially when it comes to head injuries. This is why Headway and leading safety manufacturer Centurion are working together to raise awareness of using and maintaining hard hats while on site.
Brain injury is more common than you think, and its impact can be life-changing for both the individual hurt but also their wider family. Ensuring your head protection is worn and cared for correctly is key to remaining safe.
Explore the campaign:
Stop. Report. Recover.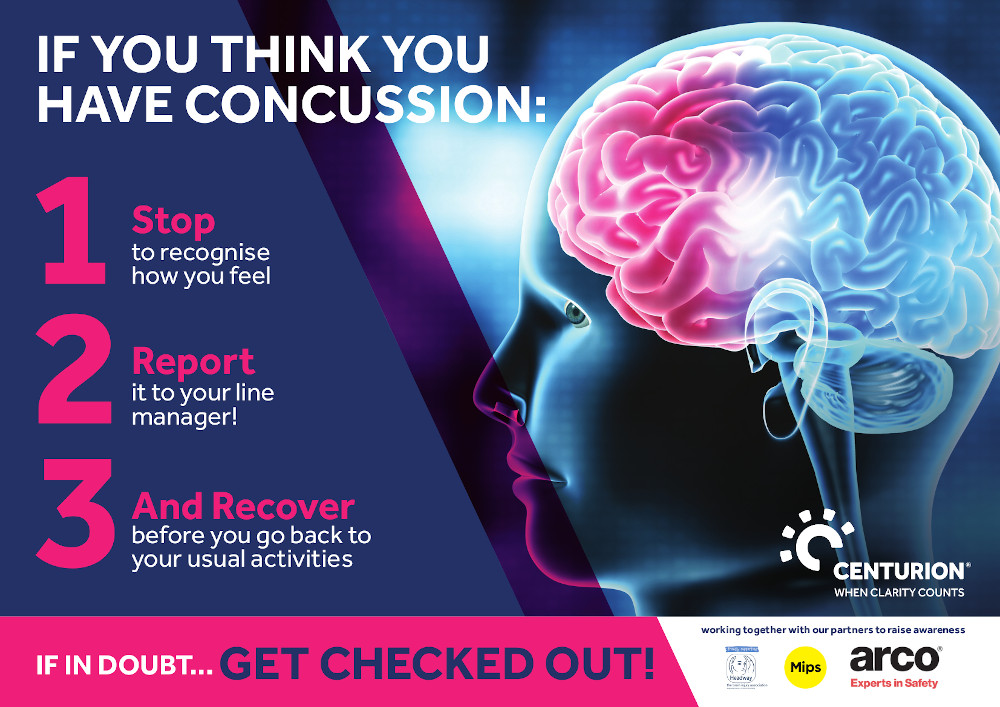 Hard hat survey results
Explore the results of a 2020 survey conducted by Headway which explored the use of hard hats in the construction industry and understanding of concussion.
Shockingly, statistics revealed that among those who experienced a head injury at work:
52% did not report an incident to their manager
Just 6% sought medical attention for their head injury
More worryingly, 15% of 486 respondents stored their hard hat in an unsuitable way, such as in direct sunlight or extreme temperatures, whilst over half (58%) painted, marked or applied decals or labels to their helmet which could cause a chemical attack and reduce its durability.

Almost a quarter (24%) were unaware that exceeding the expiry date of a hard hat can reduce the level of protectivity and 28% did not know where to find their helmet's expiry date or were unaware it even had one.
Construction site head injury key facts
An acquired brain injury (ABI) is an injury caused to the brain since birth. There are many possible causes, including falls and blows to the head.
There were 348,453 UK admissions to hospital with acquired brain injury in 2016-17. That is 531 admissions per 100,000 of the population.
20% of all injuries whether fatal and non-fatal in the UK since 2013 are head related.
Of all non-fatal injuries reported under Reporting of Injuries, Diseases and Dangerous Occurrences Regulations for 2017-18, 13% are head related.
Head protection account for only 3% of PPE purchases, yet account for over 20% of injuries.
On average people spend £25-£30 on a pair of safety boots, but only £5-£8 on their safety helmet.
Liam's story
Liam Jones* was working as an overhead linesman when a metal bar fell and hit him on the head, causing what could have been a life-altering injury had he not been wearing his helmet.
Here, he shares his story as part of Headway and Centurion's campaign to raise awareness of using and maintaining hard hats while on site.

35-year old Liam was working on an overhead line job late at night. It was dark and he and his team had been working all day long.
Liam was working on the ground while colleagues were installing a screw-in pin above him. Accidentally, the pin, weighing 1.6kg and measuring 14 inches, fell and hit him on the head.
Thankfully, Liam was following proper protocol by wearing his hard hat.
He said: "Although using hard hats is second nature, seeing my hard hat perform so well and protecting me in a real situation gives me huge confidence in my PPE."
Liam was left with minor bruising on his head, but he says that without wearing his helmet, things could've been far worse.
"The doctor in A&E was thankful I was wearing a hard hat. I feel very grateful to be alive. In my mind, there's no doubt that the hard hat saved my life or at least from serious injury."
*name changed for anonymity
"Check your hard hat" urges brain injury charity
Headway – the brain injury association and leading safety manufacturer Centurion are working together to raise awareness of using and maintaining hard hats while on site.
Find out more
Cycle safety
We are passionate about promoting safe cycling, while supporting calls to make it safer for people of all ages to take to their bikes and get pedalling.
Find out more