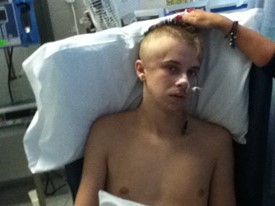 Daniel, 22, was left with life threatening brain injuries after a vicious attack in a nightclub. He was punched down the stairs and received injuries so severe that he had to have part of his skull removed to relieve the pressure in his brain, spending six months in hospital.
Despite having surgery as recently as February this year, Daniel has taken on several charity challenges to raise money for the organisations who helped him in his recovery. Daniel 'wanted to do something a bit bigger for Headway, with it being the only UK-wide brain injury charity,' and set himself the incredible challenge of cycling from London to the Eiffel Tower 'to raise awareness and a bit of money for other people who have had a brain injury and have been through it all.'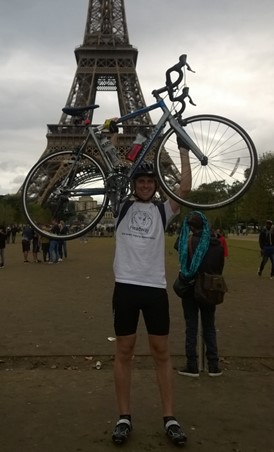 Completing the 290-mile ride in 4 days, Daniel is incredibly proud of his achievement, and calls the experience both rewarding and exceptionally fulfilling.
He said, 'the high was definitely on Saturday night, after we got into Paris. There was a reception at the hotel and an Irish bar around the corner, which everybody went to and had a really good laugh.'
Having initially set himself a fundraising target of £2,000, which he smashed, Daniel is now on course to clear £3,000 – an absolutely phenomenal achievement!
Of his whole experience, Daniel said, 'I am only too aware post-brain injury of how much Headway can help you so this entire journey has been for them and my own gratification hasn't come into it at all.'
Headway is incredibly proud of Daniel's truly amazing achievement and so grateful for his outstanding hard work and dedication!
If you would like to donate to Daniel's Just Giving page, please visit https://www.justgiving.com/fundraising/Daniel-Brown38
Back