Hayley, Ross and their sons Patrick, 4, and William, 1, had just arrived home after enjoying a Mother's Day dinner at a local pub on 11 March 2018.
"Our youngest, William, was a bit unsettled  because he had missed his nap, so Hayley took him outside," said Ross. "Not long after she came in saying "something wasn't right". Suddenly, she collapsed and started having a seizure.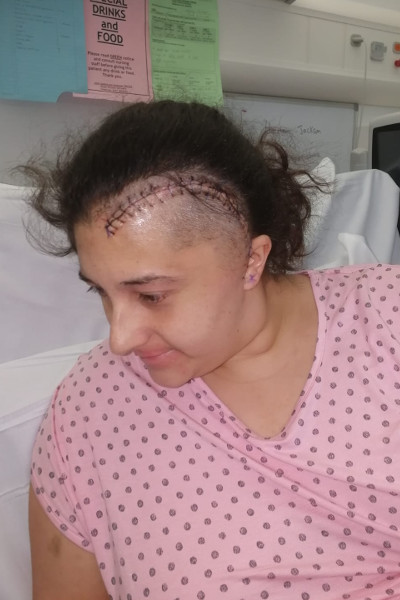 "William was there and he became upset because he knew something was wrong. Luckily Patrick was engrossed in the iPad."
Hayley was rushed to The Royal Victoria Infirmary with a suspected bleed on the brain and the following day, underwent surgery to coil an aneurysm. Unfortunately, after the operation she developed an infection and needed further surgery to treat it, which involved removing part of her skull.
Unable to understand what had happened to his wife, Ross started to look for information about brain injuries online and found Headway.
"The Headway website was really helpful when Hayley first had her aneurysm," he said. "I didn't know anything about brain injury, so it was helpful to be armed with some information. To see that some people make a full recovery gave me hope."
After spending a month in intensive care Hayley spent a further ten days on the hospital's neurological ward.
For the past few months, Hayley has been recovering at the Walkergate Park Centre for neuro-rehabilitation.
"Hayley has some weakness in her right hand side but she is having physiotherapy to help get her strength back," said Ross.
"She still has some problems with her speech and language. She couldn't say a great deal to begin with, but that's improved a lot in the last few months. She speaks in broken English, but she always gets her point across."
As well as being worried for his wife, Ross was concerned about the effect her absence would have on their sons.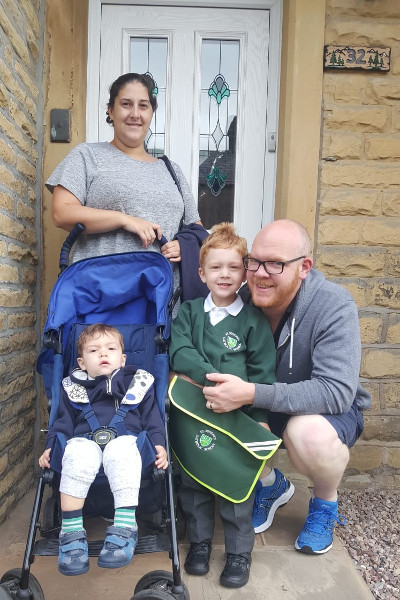 "Patrick, our four-year-old, has been absolutely amazing, " said Ross. "He's so resilient, I underestimate him sometimes. He accepts that mummy is poorly and when she's better she'll come home.
"But our one-year-old William has been more effected by it. He's been very clingy with me and at first when I left him he would burst into tears.
"When I took the boys to see their mum in hospital Patrick was straight up on the bed snuggling with her. But William wouldn't go near her. I don't whether it was a defence mechanism, or whether it was because she was tied up to lots of tubes. He's better with her now, but still gravitates towards me."
Hayley, who works as a midwife, was discharged from the neuro rehab ward at the end of August.
Ross hopes that by taking on the Great North Run on September 9, he can raise funds to support other families at such a difficult time in their lives.
Cerys Beeby, Senior Community Fundraiser for Headway, said: ""It can be extremely difficult for people to come to terms with what has happened to a loved one when they sustain a brain injury.
"We're really pleased that Ross found the Headway website and was able to take comfort in his new knowledge of what was happening. We also have a free nurse-led helpline people can call for support.
"We're extremely grateful that Ross has taken up the challenge to support Headway, without fundraisers like him we couldn't support brain injury survivors and their families across the country."
If you would like to support Ross and make a donation visit the Virgin Money Giving website and search for Ross Jackson.
Back