A group of 70 thrill seekers took on the UK's highest freefall abseil down the ArcelorMittal Orbit in the Olympic Park in London, and what a day it was!
The event attracted teams from near and far to take on the Orbit and face their fears. After taking in the magnificent views of London, the teams were suspended 80 metres in the air before abseiling back to solid ground.
The daring abseil was tackled by Headway supporter and brain injury survivor, Nic O'Leary. Nic delivered a moving and inspirational speech during the lunch which was kindly sponsored by No5 Barristers' Chambers. His personal story brought home to everyone how important their fundraising and support is to Headway.
Geoff Carr, Director of Clerking for No5 Barristers' Chambers, said he had to summon up a lot of courage before taking the plunge – which he did to the delight of his colleagues.
He said: "The Orbit Abseil was a once-in-a-lifetime experience for me and I had to really dig deep to muster up the courage to take on the 262ft challenge.
"I'm terrified of heights, a fact my colleagues took great delight in as they snapped copious amounts of pictures of me looking like a palpable wreck.
"But on a more serious note, the day was incredibly well organised; to see so many willing participants from so many different walks in the profession was, and is, a testament to Headway and all of the team running such a worthy charity.
"I was particularly moved by a highly motivational speech given by Nic O'Leary which motivated the entire group and crowned an incredibly successful day."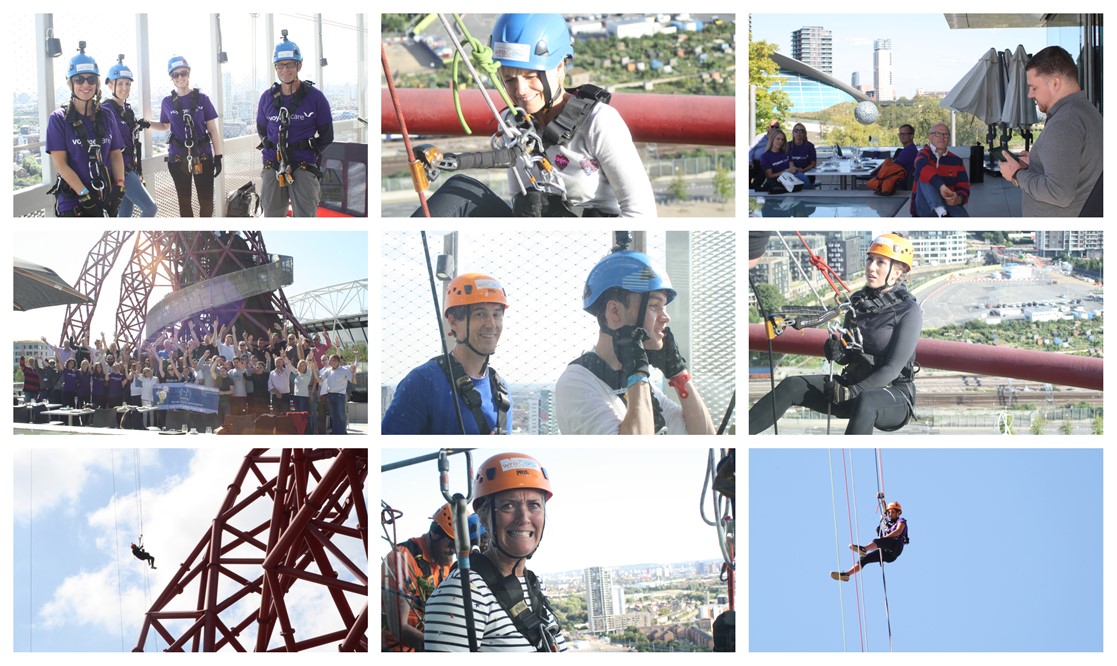 Rachel Davis from Nockolds Solicitors also felt the abseil was day to remember.
She said: "It was a terrifying and amazing experience all at the same time, and definitely something that I won't forget. We all feel very proud that we completed this challenge to raise money for such a fantastic charity."
Corporate supporters from various organisations came to support the day, including some of our Charity of the Year partners.
Laura Jordan from Voyage Care said it was an incredible experience: "The day was so inspiring. Headway is our chosen Charity of the Year for 2018 and to be able to raise money for such a worthy cause is something we are all so proud of."
Headway would like to thank all involved for supporting this day of fundraising, including teams from Osbornes Law, Old Square Chambers, Bolt Burdon Kemp, Home Care Preferred, Boyes Turner, Clarkson Wright and Jakes, Jefferies Solicitors, Wynne-Jones IP, Saltus Private Wealth Management and Psychology Direct.
Keep your eyes peeled for the next corporate challenge which will be celebrating our 40th year in 2019! Will you go wild for Headway?
To find out more about working with Headway, events and opportunities, please contact Anna Kerr: partnerships@headway.org.uk
Back