Kevin and Louise French cut the ribbon at the grand opening on 1 August, as a thank you for all the support they have received from their local group - Headway Shropshire.
In 2012, the couple were changing a tyre on their daughter's car on the side of the motorway when a car crashed into them at 70mph leaving them with life-changing injuries.
Kevin, 51, died twice, at the side of the road and on the operating table, and was told he would never walk or talk again.
Louise's brain injury wasn't diagnosed until four months later, and she also suffered a broken neck, pelvis, leg and foot.
The 52-year-old returned to work as a nurse seven months after the accident, but Kevin will never work again.
For the past five years Headway Shropshire, an independent charity affiliated with Headway - the brain injury association, has supported Kevin, Louise and their daughters throughout his recovery.
The couple both volunteer for the charity, selling donated items at its hospital stalls at Princess Royal Hospital in Telford and Royal Shrewsbury Hospital.
As a thank you for all the help Headway has given the couple, they officially opened the charity's new shop in Whitchurch High Street on Tuesday, August 1 at 10.30am.
Louise said: "We're really grateful for all the help Headway Shropshire has given us since the accident and we wanted to open the shop as a way of giving something back.
"I hope that having a shop in Whitchurch will help raise funds to help survivors like us, as well as raising awareness of brain injury in the local area."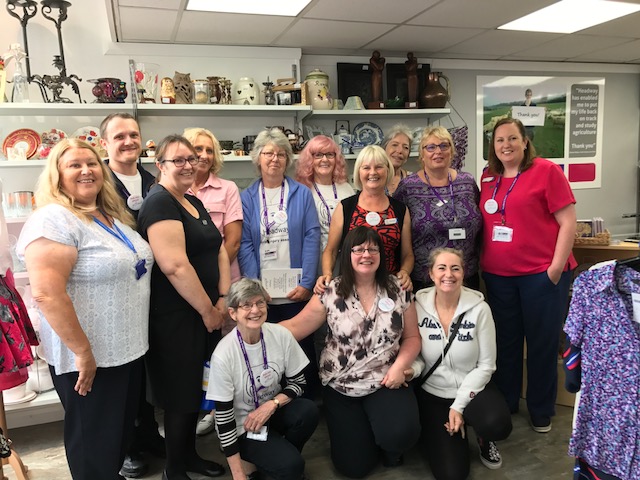 Jo Plant, Director of Fundraising at Headway, said: "We are delighted that Kevin and Louise helped us officially open our new Whitchurch shop.
"Brain injury can devastate lives, and it can happen to anyone, at any time.
"They are both proof that with the right support there can be life after brain injury.
"They are a wonderful couple and it was an honour to have them there.
"Like all the Headway shops, the Whitchurch store will rely entirely on stock donations from the general public so we would be very grateful if people could bring along any unwanted items that may be cluttering their closets."
Brain injury survivor Diane Tew was the first person to volunteer at the Whitchurch shop and also attended the grand opening.
Anyone interested in volunteering or donating stock can visit the shop on 4 High Street, Whitchurch, Shropshire, or call shop manager Sue Sealy on 01948 661248.
Back