Anyone who has ever run the London Marathon for a charity can tell you how difficult it is, not only firstly to complete it on the day, but also to stick to the weekly training plan and to complete your fundraising target at the same time!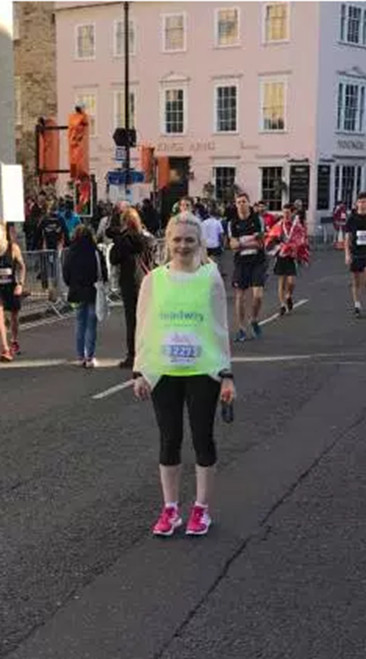 With this in mind we would like to say a HUGE thank you to all our London Marathon runners who are helping Headway - the brain injury association and our groups and branches across the country to support people affected by a brain injury. We cannot thank you all enough for your support!
One runner in particular has been writing about her experiences of training for the London Marathon for the first time.
Runningshoe
Siobhan's blog, runningshoe - a journey to 26.2 miles, touches on the difficulties runners can face, as well exploring the practical aspects of the day-to-day training involved.
From tips on finding the best pair of trainers to the effects running can have on your relationships with others, this blog is definitely worth a read, and is especially helpful for anyone who is running the London Marathon or thinking about taking on a similar challenge. 
Her blog also provides support, advice and comfort to other Headway runners as well as kindly endlessly promoting the services Headway provides.  
High praise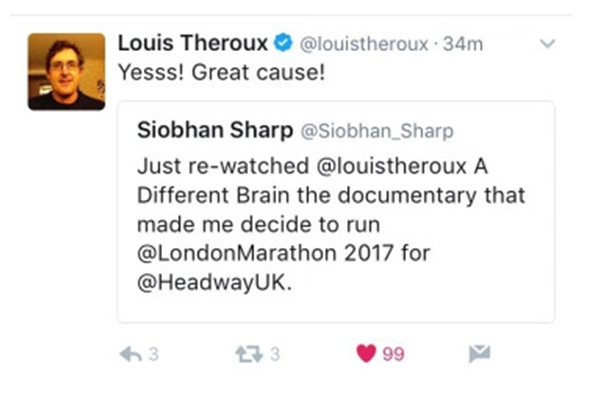 Fantastic examples of this are when Siobhan got a lovely response to her tweet from Louis Theroux, who then also went on to retweet her comment to his millions of followers. She also visited Headway West London to witness some of the incredible work they do, and later wrote of her visit in her blog saying:
"The amazing members at the group spoke about the struggles and frustrations of the effects of brain injury.... It definitely reminded me that the work Headway does is amazing and my small impact on raising some money and awareness is important"
We love her blogs and you can follow Siobhan's progress at runningsharp.wordpress.com
More info
Like so many other Headway London Marathon runners, Siobhan is running for personal reasons, unfortunately her good friend Will suffered a severe brain haemorrhage several years ago. His wife Amy became his primary carer, helping him relearn the basic everyday tasks he once took for granted, including how to walk and eat independently. Will has gone on to write a fantastic account of adjusting to life after a brain injury, and you can view this at www.fromreportertosupporter.com
Having seen firsthand what can happen when a friend sustains a brain injury, Siobhan decided to take on the London Marathon and raise money to support others affected similarly. We are proud to have fundraisers such as Siobhan who are dedicated to the cause and want to help support others. If you would like to support Siobhan and Headway- the brain injury association you can sponsor her at uk.virginmoneygiving.com/SiobhanSharp
We wish her and all our London Marathon runners' good luck with their fundraising and look forward to cheering them on, on the big day! 
Back