Peter Holmes, from Leeds, had been promised a thrilling but safe experience riding on a jet ski along the river Sava when he visited Serbia with his family on 14 August 2011.
Unfortunately, despite being accompanied by an experienced instructor, Peter crashed at speed into another vehicle, leaving the teenager lying unconscious and face-down in the water, with blood streaming from his head.
Three years on from that fateful holiday, Peter has battled to rebuild his life. This year, he even took to the streets of Newcastle for the Great North Run to raise funds for Headway. Now 20 years old and determined to help others affected by the devastating consequences of brain injury, Peter shares his inspirational story here.
On a hot and sunny day by a Serbian river three years ago, I put fear aside and leapt on to a jet ski for the first time
"I'm not a great swimmer, but I'd been given a lifejacket. My family shouted "go for it!" and that's what I did. Seconds later, my jet ski and another machine crashed at speed on the busy river, and my life was turned upside down - literally and figuratively.
"I have no memory of the accident. I was found face-down and unconscious in the river. The other rider suffered a broken leg, but when my sister, Vikki, found me floating in the water surrounded by a large slick of blood, she feared I was dead.
"I was pulled to the shore and held by my mother in her arms until medical help arrived.
"I spent the next ten days in a coma, seven of them at the Belgrade Emergency Health Centre. Doctors believe my head struck the second jet ski, causing me to sustain an 'extremely severe' traumatic brain injury.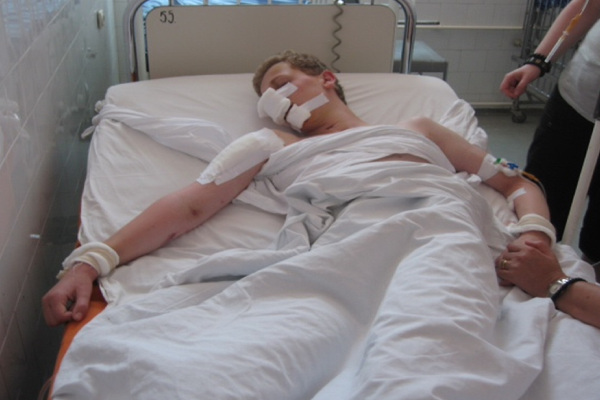 "I was later flown by air ambulance to Leeds Bradford Airport on 22 August and admitted to the intensive care unit at Leeds General Infirmary.
"Doctors pulled no punches, telling my parents there was a long road ahead with no guarantee of a full recovery. Surgery was ruled out, but my brain needed to slowly reboot and I would have to learn things, like walking and talking, all over again.
"I was told of this 18 days before I spoke my first words to a speech and language therapist, who rang my Mum to break the happy news and handed me the phone.
"I said: "Hi Mum, it's Peter," and, with a bit of prompting, I added: "I'm fine". 
It was hardly Shakespeare, but it got Mum screaming with joy. I took my first unaided steps later the same day.
"My rehabilitation continued in a specialist unit at Chapel Allerton Hospital in Leeds, followed by weekly appointments with a psychologist at St Mary's Hospital in Armley to help me cope with increased anxiety, fatigue and difficulties concentrating and thinking flexibly.
"The accident happened in the middle of my A-level studies at St Aidan's School in Harrogate, where my twin brother Alex was also taught. My studies were put on hold for a year while I relearned the basics. It was tough seeing Alex, my shadow for so many years, going it alone and winning a place at university ahead of me. School staff showed great patience and understanding, and I was gradually re-acclimatised to the world of academia.
"I stumbled plenty of times, took far too long agonising over essays and worried constantly about what fellow pupils thought of me, but I persevered and Hull University offered me a place to study geography, while promising to support me in my quest to make sense of my new life. I overanalyse, suffer from paranoia and bouts of depression, as doctors warned I would, but I do my best to put on a brave face and smile.