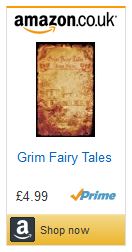 Adam Nicke spent over twenty years living with misdiagnosed health problems.

When he suddenly collapsed in September 2015, surgeons found a tennis-ball sized brain tumour that may have been growing since the 1980s.

After the tumour was removed, Adam rediscovered his love of writing and has now gone on to publish a revised edition of his book called Grim Fairy Tales.

We asked the 50-year-old author from Chepstow in Wales about his life after brain injury and his passion for writing.
Before your brain tumour was diagnosed, you were suffering from serious health problems. What were they?
By 2012, I was suffering anxiety attacks, depression, obsessive behaviour and a few other psychological issues. Over the next three years I started suffering physical symptoms. I was plagued with dreadful headaches, blurred vision, hiccups for a month at a time, shingles and bladder weakness.
In January 2015 I fell over three times walking a few hundred yards to my car. My doctor said it was the new antidepressants I was on and changed them to a different brand.
By then I was also alcohol dependent as a way of coping with all the health and psychological issues the tumour was causing. I'm pleased to say that since my operation I've been teetotal.
How was your brain tumour finally discovered?
By summer 2015, I was taking up to ten paracetamol a day to cope with excruciating headaches. I then started getting dizzy spells and falling over. I had said on Facebook how ill I was feeling and then became too ill to post.
Luckily, someone thought to check up on me after I'd been silent for a few days and found me lying on my kitchen floor. She called the police and they called an ambulance which then rushed me to hospital. My surgeon's nurse has since told me they all thought I wasn't going to make it and that my scans were "horrendous".
Both my parents are deceased and as I've never been married or had children I had no family to visit me in hospital. I'd also lost my phone in the ambulance so when the surgeon told me the night before the operation that there was a chance I wouldn't survive the operation I wasn't even able to tell anyone.
How did your life change after your tumour was removed?
Initially I was euphoric and felt like the weight of the world had been lifted off my shoulders given that the headaches and panic attacks had gone. Sadly, I was put on anti-convulsant medication and began suffering side effects.
Within a short while fatigue became a real issue, then I developed other symptoms such a constantly feeling cold, constant thirst, various aches and pains. I joke that men aren't good at multitasking but I'm particularly bad as any distraction causes me to become very irritable and then tired.
Even now, nearly two years on, I've not had a single night out and I avoid bright lights and loud noises. I find I'm very intolerant and impatient with people and have lost a number of friends over the issue. I feel overwhelmed by the day by early evening and am always in bed by 7pm.
Tell us about your passion for writing and how it was affected your health problems?
In 1995 I graduated with a degree in Literary Studies and the first edition of my book, Grim Fairy Tales, was published. It was a collection of late 19th century style gothic tales in the style of Edgar Allen Poe or the prose of Oscar Wilde.
Sadly, having to make a living whilst battling the symptoms the brain tumour caused made me put my writing on hold. Then in 2006, I became a full-time carer for my beloved grandmother. Her daughter – my mother – had passed away in 1990 so I stepped in. The next six years took a toll on both of us as her dementia and the effects of my brain tumour worsened. I struggle to remember pretty much anything that happened between my grandmother's death in 2012 and my collapse in 2015.
I tried to edit an unpublished novel in 2016 but by then the last of my grandparents – my maternal grandfather in Torquay – was dying, so real life made any flights of the imagination difficult again. It was only in the last year that the republication of 'Grim Fairy Tales' has been an ongoing – albeit slow moving – project. I'm very happy to say my prose and purple passages are now probably better than ever.
How did you re-discover your love for writing?
In the summer of 2016 I read that the wife of the publisher of my Grim Fairy Tales, Dr Keith Seddon, had passed away and so I sent him a message offering my condolences. A few months later he replied and suggested republishing my book.
I hadn't written creatively for quite a few years but as there had always been things I wasn't happy with in the 1995 edition it seemed like too good an opportunity to miss. Dr Seddon has a PhD in Philosophy and is himself a published author.
In conjunction with suggestions by him, I made a number of changes to the text and even created the new cover art. Such were the changes he commended me on them and said that he also thinks they have made the new edition a much better book.
Tell us a bit about the book.
It is gothic in style and I think this is more relevant today than it was when it was first published in 1995. The original gothic novels of the late 18th century were reactions against the formal constraints of classicism and a desire for man to return to his natural self.
Just as the 18th and 19th century writers captured the zeitgeist of the times with their anti-establishment writing I think the current mood of the country is ripe for a new wave of gothic romantic decadence as political figures on both sides of the political spectrum are also railing against the ruling elite and, just like the gothic romantics, saying all this needs to be swept away if we're to return to our natural selves.
What advice would you give to other brain injury survivors who want to re-learn a lost kill, or develop a new one?
Eat well and makes sure you're getting all your vitamins and minerals. Neurosurgery is major surgery and your body has a lot to recover from so make sure it has the tools to do the job. If you have family they need to be patient and understanding as you'll almost certainly have mood swings and fatigue.
From my experience I can now remember words I've been trying to remember and wanted to add to my vocabulary for years. I've also been playing guitar on and off for decades and only in the last few months have I really improved. I've read that playing an instrument or speaking a second language encourages neuroplasticity so what might seem frivolous might actually be helping your recovery.
---
Since taking part in this Q&A, Adam released his new book Mallard the Quack. 
Join three conmen posing as men of science in their quest for cash at any cost - hampered only by their ignorance, incompetence, arrogance, deceit, desperate greed, and ill-conceived plans.