About Headway
Headway - the brain injury association is registered with the Charity Commission for England and Wales (Charity no. 1025852) and the Office of the Scottish Regulator (Charity no. SC 039992). Headway is a company limited by guarantee, registered in England no. 2346893.
---
Brain injury can challenge every aspect of your life – walking, talking, thinking and feeling – and the losses can be severe and permanent. It can mean losing both the life you once lived and the person you once were.
Headway is the UK-wide charity that works to improve life after brain injury. Through its network of more than 125 groups and branches across the UK, it provides support, services and information to brain injury survivors, their families and carers, as well as to professionals in the health and legal fields.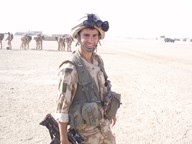 "My brain injury will always be with me, but Headway has helped me rebuild my life. With the right help and support, there can be life after brain injury."
- Tom Birch, who sustained a serious brain injury while serving in the Royal Marines in Afghanistan.
At Headway, people use insight and care to help survivors regain some quality of life through a wide range of services, including rehabilitation programmes, carer support, social re-integration, community outreach and respite care.
On a national level, Headway provides a range of frontline services to help those affected by brain injury, including:
The charity also lobbies for better support and resources to be made available to people affected by brain injury and works to raise awareness of brain injury and the devastating effects it can have.