A gift in memory
A gift in memory is a special way to celebrate the life of a loved one, benefiting others who have been affected by brain injury.
It is thanks to voluntary donations such as these that we are able to provide the information, support and services that are so vitally needed to brain injury survivors, their families and carers.
Donate in memory of a loved one
There are three ways you can make a donation in memory:
We will reply with a letter of thanks to the donor, unless otherwise requested. Please provide details of the next of kin if you would like us to let them know we have received the donation. We will not disclose the donation amount.
---
Collect at a funeral
If you would prefer donations to floral tributes, it is a good idea to let your executors know of your wishes, or to include it in the details about your funeral.
Download our gift in memory card below, or contact us to request donation envelopes.
---
Organise an event in memory
Organising an event in memory of a loved one is a great way to celebrate their life.
My story: The Johnny Taylor Memorial Trophy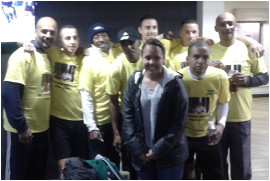 Following the death of his brother, Johnny, in 2013, Steve Taylor and his friends held a charity football tournament in his memory at Finbarrs Social Club in Coventry.
In true British form, the rain came down in force, but this didn't stop everyone from having a great day and raising a fantastic £400 for Headway!
Steve says: "A great day was had by all remembering a great man who was loved by all."
Headway are incredibly grateful for fundraisers like Steve for considering supporting others in memory of their loved ones; it is a wonderful achievement. Special thanks also goes out to Finbarrs Social club for all their help with the fundraising.
Click the link on the right for advice on running your own event for Headway.
---
Create a tribute page
Create a page in memory of your loved one, where friends and family can make a donation, upload photos and send messages.
JustGiving and Virgin Money Giving allow you to create a personalised in memory page, where you can tell the story of the person you're remembering (using words, photos and video) and explain why you're raising money in their memory.
Your friends and family can give to your page easily, safely and securely, wherever and whenever they want to. Together you can create a lasting tribute in memory of your loved one.
---
Donate a car
Giveacar raises money for UK charities by scrapping and selling old cars. They provide a nationwide free service which:
Arranges the collection of the vehicle from your home
Depending on its age and condition, recycles it at an authorised facility or sends it to auction
Scrap donations raise about £100 for the charity (depending on the price of metal) while auction cars can raise much more.
To arrange donation of a car, visit www.giveacar.co.uk or call 020 7736 4242, quoting Headway - the brain injury association as your preferred charity.