Understanding MY brain injury - New for 2023!
Created for and delivered by brain injury survivors.
"I took so much from this training, it was wonderful to talk freely but to also realise how similar we are to other head injury people in how we felt, emotions, feelings etc."
– Understanding MY brain injury attendee.
Currently fully booked!
If you've experienced brain injury and are struggling to adjust to a new identity, we invite you to join us online for our free Understanding MY Brain Injury training course.
This 40-minute session has been created specifically for brain injury survivors, it will explore the hidden effects of brain injury and the rehabilitation journey.

To join the waiting list for this free training course please send an email to training.admin@headway.org.uk. 
What will I learn?
Thanks to our guest speakers, we'll explore the emotional and psychological aspects of this journey through compassionate dialogue and expert guidance.
Serena Ventura will discuss the link between breathing and emotions. She will share a simple exercise that can help regulate our emotions, and that can be applied daily.
Mark & Jules will share their adjusting experience following Mark's brain injury.
Meet our guest speakers
Serena Ventura
Serena Ventura is an accomplished Clinical Psychologist specialising in Brain Injury and Neurological Conditions. She has a strong academic background in Cognitive Science, Neuroscience, and Psychology, having completed her studies and Master's Degree at Padua University in Italy and the University of Lincoln in the UK.
Her expertise is backed by five years of experience in the healthcare sector, working in private and public settings. She completed two university internships at King's College and Goldsmith University of London, honing her skills in the field of psychology. In addition to her work in the healthcare sector, Serena is also the Founder of an online psychological services start-up. Her passion for leveraging technology to improve mental health care has driven her to develop innovative and accessible solutions for patients.
Mark & Jules
Mark & Jules took the phrase, 'Holiday of a lifetime', to a new level back in 2012. Mark had a "freak" accident while on holiday, and although he made a full physical recovery, nothing could prepare this couple for the non-physical side effects that a brain injury would leave behind.
After years of struggles, they finally received support and knowledge and understood the impact of the long-term effects such as fatigue, memory problems and low mood. They set about making changes to their lives and their business in order to manage the day-to-day challenges.
They've now created a social enterprise through their company to support people living with hidden disabilities following a traumatic injury. Mark was also the proud winner of the Headway Alex Richardson Achiever of the Year at the Headway Annual Awards 2022.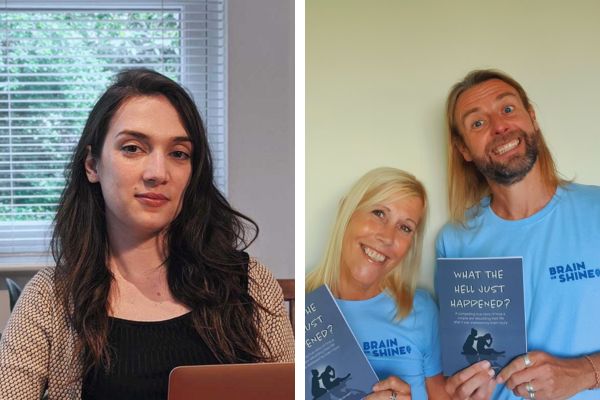 ---
Related information