Headway Charity Golf Day
Book your place at our exciting new event and tee off with Headway at The Mere!
Introducing the inaugural Headway Charity Golf Day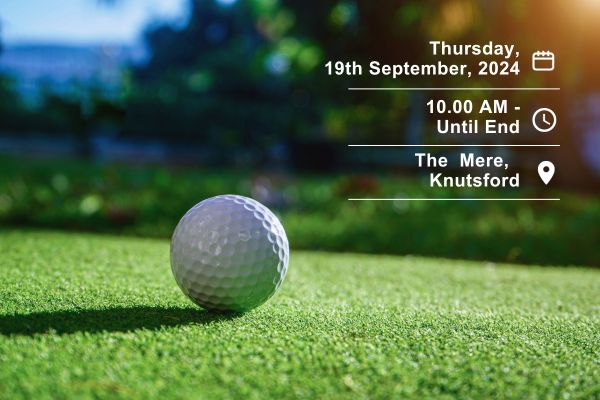 Take on a solo challenge, join with friends and family, or create a corporate team of colleagues and clients and get ready to tee off for a cause.
Whether you're a seasoned pro or just discovering the joys of the game, we invite you to join us for a fantastic day where golf meets giving. However you choose to play, know that every divot you make and every birdie you score contribute to improving life after brain injury.
What to expect at the Headway Charity Golf Day
More than a great day out and an excellent networking opportunity, this Championship Golf Course promises an exquisite 18-holes of challenge and thrill.
The day will begin with breakfast and refreshments overlooking the lake
18-holes on the world-renowned course of The Mere, Knutsford
Ensuring you enjoy camaraderie and competitions out on the greens, the day will be filled with thrilling on-course contests, including the longest drive, beat the pro, and closest-to-the-pin challenges.
To finish, there will be a sumptuous dinner and reception, providing an excellent opportunity for networking and building lasting connections amongst Headway supporters.
The Headway Charity Golf Day is more than a game—it's a chance to be a hero off of the fairways too, a swing for change, and a drive towards a brighter future.
Event details
Thursday 19th September 2024
10 am - ends
The Mere, Knutsford
Prices start from £135 per person, or £525 per team of 4
Reserve an evening-only ticket
If golf isn't for you but you'd like to join in on the event we have a limited number of places to join the teams for dinner and the evening festivities!
"This Charity Golf Day presents a wonderful opportunity for golfers of all levels to come together, enjoy a fantastic day on the greens of The Mere, and make a difference in the lives of brain injury survivors."
– Holly Howey, Event Organiser.

Sponsorship opportunities
This is a brand new event for Headway, and we have a variety of sponsorship packages available to help raise further funds for the charity.  Let us help you find the right sponsorship package and showcase your organisation across this special day. Contact us by clicking on the button below.
Auction prizes
Do you have access to a prize or experience money can't buy? We would welcome donations of prizes for the auction. Businesses who donate auction prizes will be acknowledged in the evening programme. Click the button below to contact us for more details.

---
Can't make it but still want to be involved?
You could always organise your own charity golf day!
Enjoy all the benefits of golf and the outdoors whilst raising money for Headway – the brain injury association.
Get in touch with our community events team who can support your event and send fundraising materials at community@headway.org.uk.
Golf club charity of the year/Captain's Charity/Lady Captain's Charity
Are you looking to support a charity this year? Then look no further, we can help make your Captain & Lady Captain's Day the ideal fundraiser for Headway - the brain injury association and support those affected by brain injury. You can contact us at community@headway.org.uk.
---
Related information