The study, which was conducted as part of the charity's You, me and brain injury campaign, showed the dramatic ripple effect that can be caused by brain injury, impacting not only the individual but also the lives of partners, family members, friends and even colleagues.
Peter McCabe, Chief Executive of Headway, said: "Relationships can be complex for all of us, but even more so if you are directly affected by brain injury.
"Tragically, many people lose important relationships following brain injury, often leading to isolation and loneliness.
"However, what is also clear from our findings is that friends and family have a huge role to play in helping people to regain confidence and improve life after brain injury."
The study, comprising the views of more than 1,000 people directly affected by brain injury, found that across all of the categories of respondents the challenges of dealing with the effects of the injury were a cause for relationship breakdowns.
Survivors, friends, family members, partners and colleagues all remarked on the fact that effects such as fatigue and personality change had a direct impact on their relationships.
The study found:
69% of brain injury survivors reported breakdowns in their friendships after brain injury.
65% and 55% of partners and family members respectively also reported friendship breakdowns.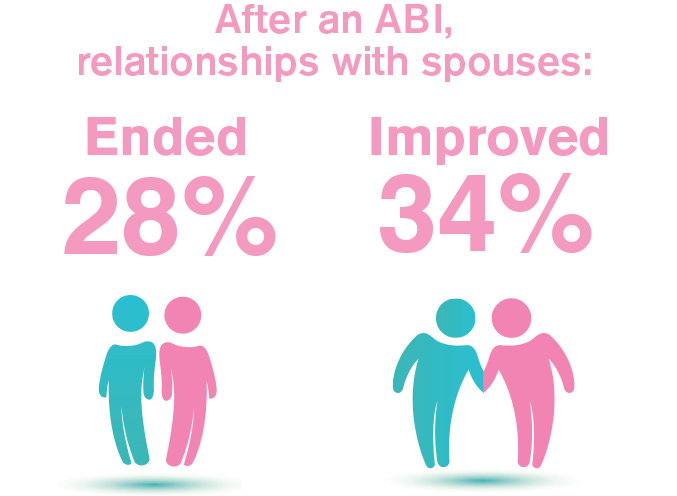 However, on a more positive note:
More than a third (35%) of brain injury survivors felt that their relationship with their partner had strengthened after their injury, with 38% of partners responding in kind.
A third of brain injury survivors felt that some friendships had strengthened since the injury. 29% of partners also reported strengthened friendships.
Almost half (47%) of brain injury survivors reported improvements in the relationship they had with family members after the injury – 3% higher than those who reported breakdowns in their family relationships.
40% of partners also reported improved relationships with family.
'I do get very lonely'
When 25-year-old Keely McGhee, from Cheltenham, was in hospital recovering from a subarachnoid haemorrhage she had sustained in a skiing accident, her friends rallied round her.
But once she was discharged, it all changed. They began to drift away with many of the friendships breaking down.
"I now suffer with fatigue, short-term memory loss and confusion, so I can't go out and socialise as much anymore," she said. 
"I'm not back at work yet either so a lot of friends and colleagues I use to talk to daily I no longer have contact with.
"I do get very lonely and feel isolated at home during the day. When I message my friends to see how they are it feels awkward like I'm being quickly cut off with 'I'm good, I will come see you soon'.
"Maybe a lot of people don't want to talk to me about what they are up to but I still want to chat about our interests and what's going on in their lives. I think because I can't be in noisy crowded places either it does hinder me seeing certain people."
Understanding
A consistent theme in successful relationships was a good level of understanding of the effects of brain injury. This extended beyond friends and families to employers, with partners reporting the difference having an understanding boss can make.
"I built new and better relationships with my work colleagues, all of them respect based."
Receiving practical support from others, such as help with daily living tasks, travelling or financial support, also strengthened relationships.
"Certain friends have been very supportive and helpful for both of us. Inviting us round for meals more frequently and regularly. Keeping in contact, offering to help with tasks and events...asking how we are and listening when we respond."
Many respondents also commented on the fact that the injury had given them a renewed appreciation of life and the people they loved.
"We spend more time together as husband and wife...taking time to do those things we never had time to do before. You are more precious of what you have."
Conversely, relationship breakdowns were mainly attributed to a lack of understanding about brain injury, with survivors, partners and family members all reporting this to be an issue, particularly where their friendships were concerned.
Responses included the following comments:
"Friends lost contact because they didn't know what to say."
"Friends have lost contact, sometimes because they don't know how to cope or don't make contact or visit as our life is limited."
"Friends also struggled to know how to support and invites dried up."

Time
Having less time to see one another, for instance survivors with their colleagues if they were unable to return to work, and partners with their friends if they had caring duties, also caused relationships to break down.
"The pressure and strain of caring for a loved one with a brain injury means there has been little time for anything else. This can lead to feelings of resentment as family and friends go about their lives forgetting you in the process."
Peter McCabe said: "What is clear from this study is that a little understanding goes a long way.
"Everyone who knows someone living with a brain injury is a ripple in the pond and can be impacted to varying degrees.
"But rather than being negatively affected by brain injury, we each have an opportunity to have a positive impact on helping brain injury survivors rebuild their lives and confidence and once again enjoy healthy relationships with all those around them."
Back
My story
"Things are going to be different, but they'll still be good."
When Richard Symes suffered a stroke in 2012, his partner Paula Stanford worried whether their relationship would survive. As part of our You, me and brain injury campaign, Paula explained that although their relationship has changed, their love remains the same.
Read story