Across the UK, Headway groups and branches run gardening projects that provide brain injury survivors and their carers with a wealth of benefits. You can read more in our special feature, Nature's Way.
During National Gardening Week (Monday 29th April – Sunday 5th May), we're highlighting some of the ways you can get involved with gardening after brain injury.
This year's theme is Edible Britain, to highlight that everyone has space to grow something delicious to eat, whether it's a single pot of herbs on the windowsill or an allotment overflowing with courgettes and potatoes.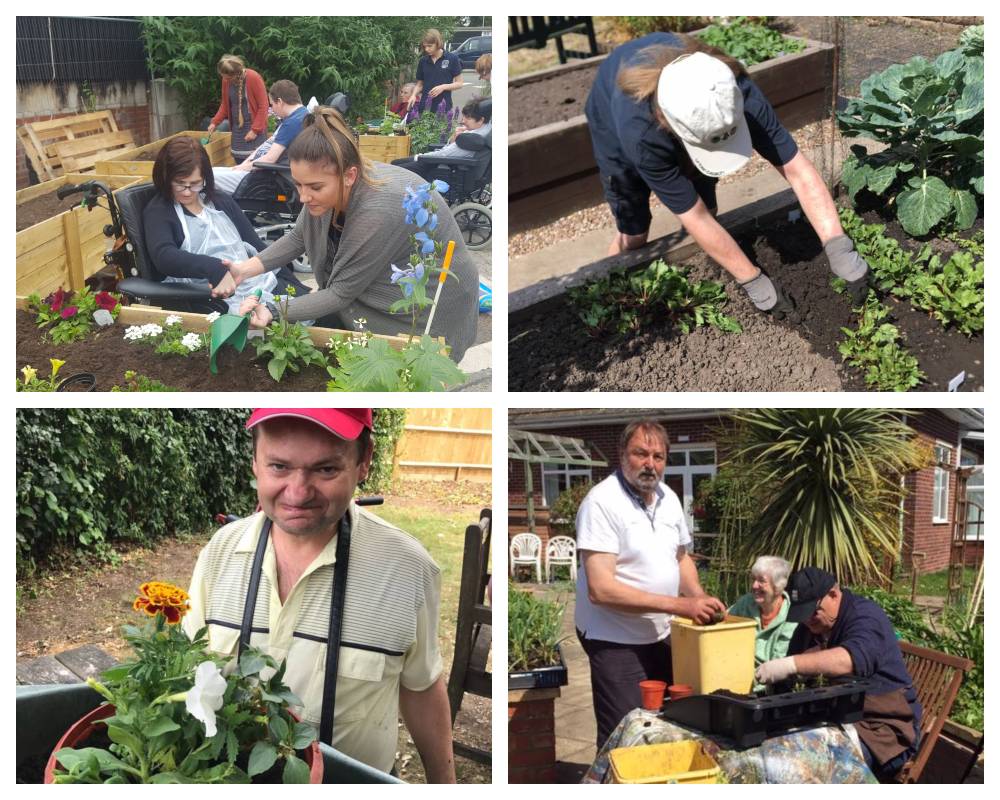 - Clockwise from top left: Headway Cardiff, Headway Derby, Headway Thames Valley, Herefordshire Headway
We've put together some top tips for gardening after brain injury:
Raised beds
Raised beds are essentially containers that bring the planting area off the ground. They are a great way to increase accessibility for people with mobility issues and offer many practical benefits, making digging, weeding and planting easier.
Thrive is a national charity that helps people with a disability to garden. Thrive's leaflet, Raised beds (PDF), has information on how to decide whether a raised bed is what you need, where to put a raised bed in your garden, different ways to construct the beds and what to grow.
What to grow?
Some vegetables are easier to grow than others. Here's a list of some of the more simple ones for the novice gardener:
Lettuce
Potatoes
Green beans
Chard
Rocket
Turnips
You can find helpful growing guides for each vegetable here.
Space saving
Not everyone has access to a garden but that doesn't mean you can't still enjoy the benefits of gardening using some handy space-saving tips, such as plant pots, hanging baskets and wall-mounted containers.
Most people at least have access to a windowsill, balcony or small yard area. Many edible plants are able to grow in pots, including: strawberries, blueberries, blackberries, tomatoes, peppers and herbs.
If you're not fortunate enough to have your own garden, contact your local Headway group as many of these run their own gardening projects, or might be able to put you in touch with a local community garden.
Attracting wildlife
A wildlife friendly garden can be easily achieved with some simple steps. Here are a few ideas:
Choose the right flowers – plants that are rich in pollen and nectar will encourage bees, butterflies and other insects to come into the garden to perform the vital task of fertilisation.
Build a log pile – this will encourage a range of biodiversity, from small mammals, amphibians and all manner of insects.
Feed the birds – offering a mix of food, including peanuts, seeds, kitchen scraps and fat balls, is sure to attract a variety of garden birds. Hanging feeders are great if space is limited.
Create a pond – if you have the space a pond is a great way to attract wildlife, such as frogs and newts. If a pond isn't an option, try using a shallow container of water and some aquatic plants.
Be hedgehog-friendly – hedgehogs are one of Britain's most iconic garden animals. Find out how you can help them here.
"The plants attract so much wildlife I could build an arc! There's a family of blackbirds, a thrush, a robin and two turtle doves, along with butterflies, bees and even squirrels." Sue Smith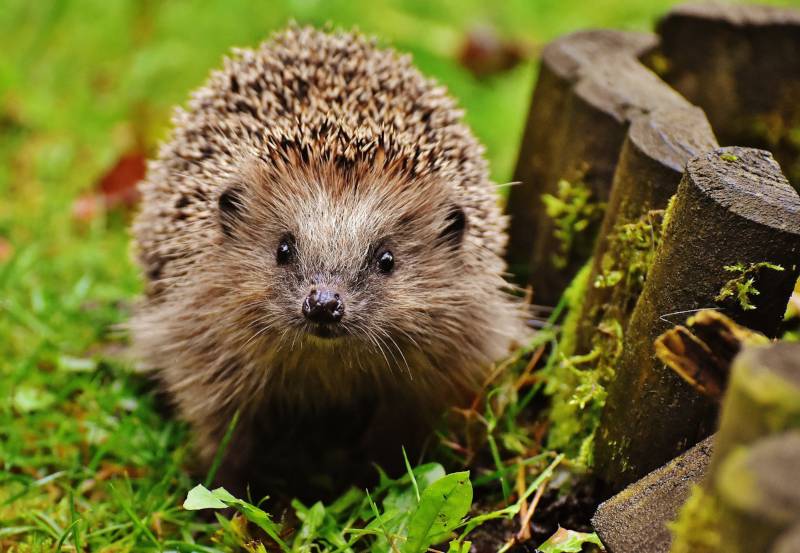 Composting
Home composting is a great way to deal with kitchen and garden waste in an environmentally-friendly way. It can then be recycled and used as an excellent soil improver in the garden.
Find out more about composting here.
Pest control
There is perhaps nothing more frustrating for a gardener than pests and diseases destroying their hard work. There are many different methods for combating pests. If you do not wish to use chemical pesticide, here are some ideas to help.
Managing the effects of your brain injury
If you have memory problems, use labels so you don't forget what you've planted. You can also write key information on the label, such as when to harvest, how much sunlight the plant needs and how often it needs watering.
Use a calendar, whether it's a printed one or an app on your phone, to remind you to water your plants. 
Many people experience planning problems after brain injury, which can make it difficult to know what to plant and when. Again, using a calendar can help, adding things in one go to help keep all the information together.
Don't be afraid to ask for help if needed. Working on a garden with support from a loved one can be great fun, and an excellent way to bring people together!
Back