The documentary series follows a massive police operation which highlights the problems with illegal money lenders, also known as loan sharks. The money confiscated from illegal activity is then used elsewhere in the community, with charities such as Headway Swindon often benefitting.
Many brain injury survivors find that following their injury, they experience a sudden change in circumstances, particularly regarding their finances. Some may go from earning a full-time wage to relying solely on benefits.
Paired with the complications often involved when applying for such benefits, brain injury survivors who are struggling to manage their finances may be at significant risk of being exploited by illegal money lenders.
Speaking on Ill Gotten Gains, Headway Swindon's Chief Executive Jane Weston, said: "People with brain injuries often have limited understanding. If somebody turns up on the doorstep and very assertively said 'well you should be doing this', then there's a very good chance they will just follow that instruction.
"It makes them particularly susceptible and vulnerable to illegal money lenders."
As part of the charity's work to improve life after brain injury, Headway Swindon applied to the Police Property Act Fund which allocates proceeds of crime to local groups supporting vulnerable people, and thanks to its talent service users, the bid was successful.
In order to secure the proceeds, members of Headway Swindon's day centre created a sea-life inspired project, which included a myriad of fish and sea creatures, as well as sharks hunting for treasure and fishermen on the lookout for money.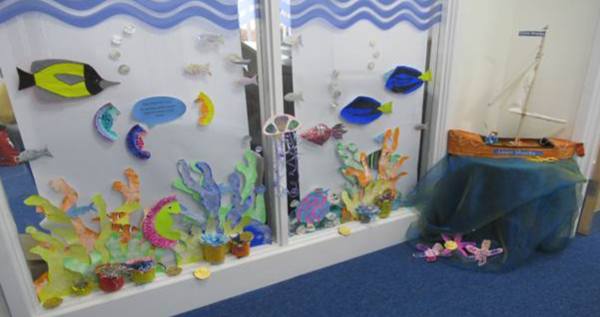 Sonia de Blaquiere, Service Development Manager at Headway Swindon, said: "Our aim was to create a project that would raise awareness visually, as many of our clients have cognitive difficulties such as reading and processing information.
"It was important that all our clients, regardless of their disability, could access this project and support us in creating a special piece of art."
Headway Swindon now has a dedicated safe space where brain injury survivors can talk about any issues or concerns regarding their finances, with trained members of staff giving them advice, reassurance and signposting them to other services when necessary.
Click here to watch the program on BBC iPlayer.
For more information on managing your finances after a brain injury, please contact our free helpline on 0808 800 2244 or email helpline@headway.org.uk.
Back