Often the most stressful part of a holiday is the journey. The airport environment can leave people feeling rushed, stressed and anxious. The combination of crowds, noise, navigation and making sure you're in the right place at the right time can be overwhelming.
Brain injury survivors may face additional challenges due to the hidden effects of their brain injury. Symptoms such as fatigue, memory problems, communication difficulties and impaired cognitive ability can make navigating through the airport particularly stressful.
Asking for assistance may also be more difficult, and brain injury survivors may be reluctant to explain their symptoms to airport staff out of fear of being misunderstood or unfairly judged.
Dr Clare Mills, Headway's Public Affairs Manager, said: "Headway is delighted that the sunflower lanyard scheme is being rolled out across the UK's airports and with other organisations.
"Passengers who have a hidden condition or disability, including acquired brain injury, can use a sunflower lanyard to indicate to staff that they may require additional assistance.
"The sunflower lanyard is a simple yet discreet way to enable staff at airports to identify those who may need extra support."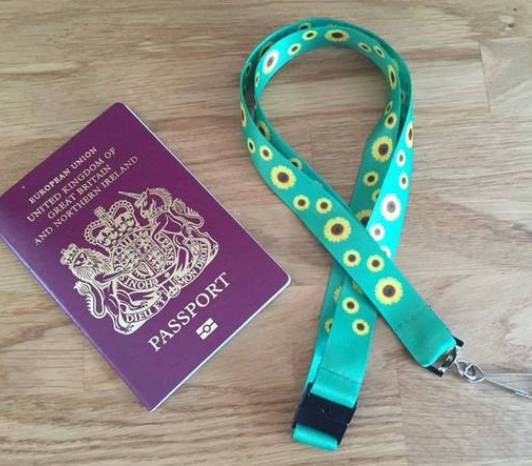 The use of a sunflower lanyard may also permit access to priority lanes through security, however you should check with your departure airport to confirm exactly what assistance you are entitled to.
A spokesperson for Gatwick Airport says: "If you are wearing the lanyard, staff should recognise it and understand that you have a hidden disability and that you may need a little extra help or time. However, they will not know what your particular disability is, or what challenges and issues you may face."
The process for allocating sunflower lanyards varies between airports but they can often be collected from passenger information desks. However, to ensure you get one for your journey it is advisable to inform customer services at the airport you are travelling from prior to your trip.
A statement on Manchester Airport's Invisible Disabilities webpage says:
"Our staff have been specially trained to recognise the lanyards and act accordingly."
Manchester Airport also provides a 'Sunflower Room' to aid 'Special Assistance Guests'. Passengers can use the room to break away from the noise, bright lights and crowds of the main departure lounge.
Unfortunately the sunflower lanyards are currently only recognised within the UK. If you require assistance at your destination airport you should contact your airline or travel company for advice.
Beyond the airport
Following the success of the scheme throughout UK airports, sunflower lanyards are beginning to be recognised by other transport providers, and even supermarkets.
In April 2019 London North Eastern Railway (LNER) became the first train company to introduce sunflower lanyards for passengers with a hidden disability. LNER even provide 'Sunflower Ambassadors' on their service who are trained on how best to help customers with hidden disabilities.
Sainsbury's is the first supermarket to test the initiative and, following a successful trial, has rolled it out to several of its stores across the UK. In these stores customers can collect a lanyard for free and keep it to wear whenever they go into the store.
Find out more and see if your local store is participating by clicking here.
Holidaying after brain injury
If you would like information and advice regarding holidaying after brain injury, including how to manage the effects of your brain injury, visit Safe Travels! Your holiday tips.
Back