The company, which provides residential support to people living with brain injuries, already raised £12,000 for Headway in 2017 – smashing their target of £10,000 to support national frontline services - and over the past 12 months they went even further.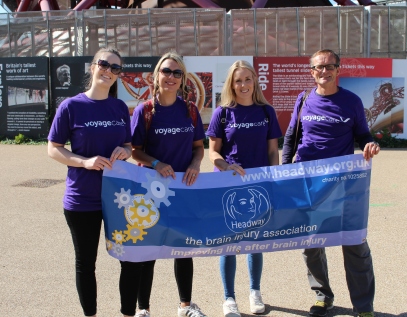 Staff at Voyage Care showed real commitment to help raise funds and got involved in some fun-filled activities.
Some of their fundraising highlights included:
Taking on the UK's highest freefall abseil
A bush tucker trial
Band night fundraiser
Snowdonia challenge
Cakes sales and dress down days
BBQs and tea parties
Obstacle races and marathons
The organisation also had staff taking part in Challenge 40, with Cat Talbot from their Lichfield office running 40 miles in 40 days.
Jo Plant, Director of Fundraising at Headway, said: "We cannot thank Voyage Care and their staff enough for the incredible support they have provided to us in the past two years.
"Last year its staff raised an amazing amount but this year they have stepped it up even further. Their fantastic support will make a huge difference to our work and ensure the charity can help even more people who have to live with the often devastating consequences of brain injury.
"Thank you so much."
Andrew Cannon, CEO at Voyage Care said: "Headway has been a fantastic charity to support over the last 12 months. Knowing that the money we have raised has been able to help people rebuild their life after brain injury, is a really rewarding feeling."
Back