They were there to see 15-year-old volunteer Callum Ellis and present him with a special certificate of merit from the Child of Britain Awards.
Callum, who has additional needs, has been volunteering at the Headway Winsford store for two years, and in that time, has become a firm favourite with shoppers and staff alike.
After a nomination from Tina Cheswick, the manager at the charity shop, the judges at the Child of Britain Awards 2022 decided that Callum deserved special recognition. The awards stating: "Congratulations. Your spirit, determination and courage is an example to all."
The award was presented to Callum by the Mayor of Winsford, Councillor Nathan Pardoe, who surprised the young volunteer at the shop he spends so much of his time. The Mayor said: "It is a privilege to visit Headway and meet Callum to present him with a Child of Britain Award nomination certificate.
"Callum has volunteered tirelessly throughout the pandemic and brings so much joy to customers and staff.
"To see the pride the staff have in Callum, matched only by his Nan. It was a delight to see him recognised for his fantastic work."
Tina, who nominated Callum for all of his hard work said: "Everybody compliments him. He's so outgoing and chats to everyone on the till. He's always offering to help people take their shopping out to their car and is a joy to have around.
"When we reopened after lockdown, a lot of the volunteers were worried about coming in because of covid, but Callum was always here to help out. And we have such a laugh together – without him I'd have been lost.
"I did say I was going to get the Prime Minister to get him a medal, and then I found a toy one in the shop, and presented it to him!
"I'm so happy that he now has a real award! He so deserves it."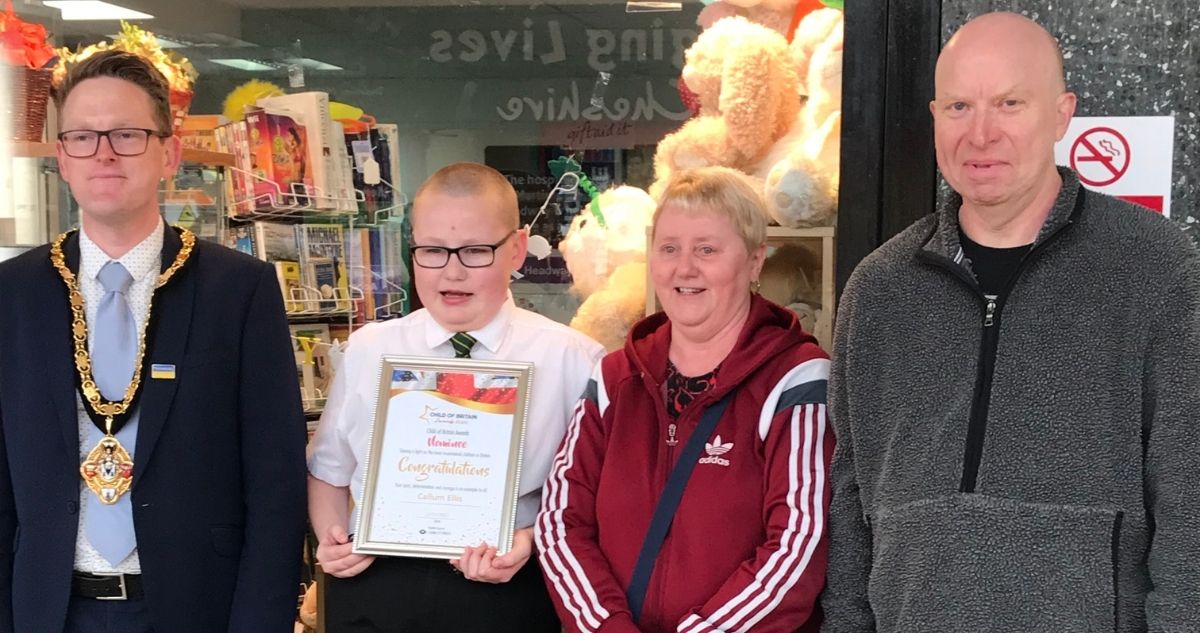 Callum lives with his Nan, Donna McCarten, and has done ever since he was fifteen months old. Donna said: "I'm over the moon! When I found out Tina had nominated him, I was in tears.
"He just gets on with everyone – because not only does he volunteer at the Headway shop, but he also gives his time to the Barnados and Age UK charity shops too. That's alongside attending the local school that supports him with his needs.
"It's been such a lovely day. He's just made up"
Callum himself was overwhelmed with the award and delighted with the goodies the team at the Headway Winsford shop had got together.
Peter McCabe, Chief Executive at Headway – the brain injury association, said: "We owe a debt of gratitude to every one of our volunteers, without whom we simply would not be able to support individuals and families affected by brain injury.
"Callum's story is particularly heartening. He is an inspirational young man who puts smiles on the faces of all who come into the Headway shop.
"We are delighted that the Child of Britain Awards have recognised him with a certificate of merit.
"We'd like to say a big thank you and congratulations to Callum on receiving such a well-deserved award."
Back