It's often said that dogs are man's best friend. But for some people, their pets provide a listening ear that never complains and companionship they may not receive elsewhere.
Owning a pet can have huge benefits for our health and wellbeing. Indeed, for some brain injury survivors having a furry friend to love and care for has completely changed the course of their recovery.
Karen, Ross and Benjie

Karen Hampson's team of furry friends comprises of Ross the Shetland Sheepdog, Benjie the Yorkshire Terrier/Jack Russell cross, and two albino rabbits called Terry and Pixie.
After she was assaulted in her own home, Karen was left with a number of long-term problems with planning, memory, concentration, mobility and vision.
"When humans let me down my animals put me back together," she said. "Ross helps me stick to a routine by getting me up in the morning, while Benjie plays his part by singing as a prompt when the washing machine finishes.
"My support network has paws. What can I say...I'm so blessed."
Lydia, Dusty, Lancelot, and Pablo

Lydia Galvin's two Beagles and a Staffordshire Bull Terrier have played a vital role in rebuilding her life after she suffered a stroke in November 2016.
"It may sound sad to some but my dogs have become my friends," she said. "I need peace and quiet to rest my brain and my dogs are so therapeutic. They know when I'm suffering from fatigue and they'll just cuddle up on the couch with me."
Feeding her dogs, playing with them, and walking them gives Lydia a sense of routine. But it also provides her with a reason to get out of the house.
"My dogs have saved me from the loneliness a brain injury can cause."
Alice and Digby

Alice Ashton, 61, owes her life after brain injury to her Boxer/Labrador Cross, called Digby.
On a cold, wet January day, Alice was walking Digby when she collapsed behind parked cars having suffered a brain haemorrhage. A passenger in a passing car noticed Digby jumping up and down and went over to investigate, and found Alice on the floor.
"He is quite literally my lifesaver," said Alice. "When I first came home after my brain injury I was quite weepy. Digby would get on the sofa, rest his head on my shoulder and look at me as if to say 'It's alright, Mum'.
"He gives me reassurance. I wouldn't be without him."
Tom and Stanley

Tom Wright found it hard to accept how his brain injury had changed him after he was involved in a motorbike accident in 2012.
But, like others have reported, his Sprocker Spaniel Stanley gives him a reason to get up in the morning.
"I had a difficult time after my brain injury," said Tom. "Stanley helped to motivate me because I needed to get up to feed him, walk him, and let him out to go to the toilet.
"A spaniel isn't a breed everyone could cope with. I often say he's on Duracell Plus batteries because he doesn't get tired no matter what I get him to do.
"Without Stanley, I wouldn't be the person I am today. He has become my best friend.
"He loves a fuss. He is so loyal, gentle and just a soft, soppy dog."
Azra and Jazz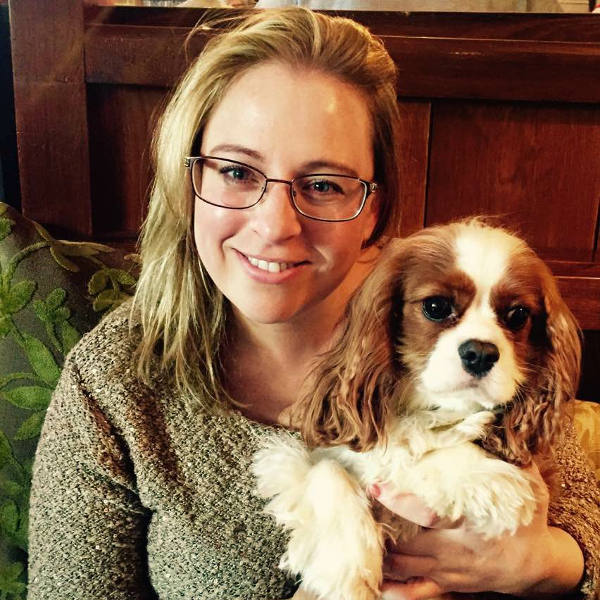 Azra Harte, 39, has owned her four-year old Cavalier King Charles Spaniel Jazz since he was a puppy.
Two years ago, Azra fell ill with meningitis and then encephalitis. Afterwards she was left feeling extremely low and developed severe anxiety.
"The unconditional love of a pet is like nothing else," she said. "I truly believe Jazz is the reason I'm still here. He gave me purpose, consistency and a reason to keep going when I was at my lowest points.
"But Jazz gives me a purpose to get up, because I needed to feed him and walk him.
"We go everywhere together and he's very special because he's so in-tune with me. I don't have any family so he really is my everything.
"When I go out I feel like people are looking at me but when I'm with him that feeling fades away. People come over to stroke him, which helps me to interact
Things to consider before getting a dog
Having a dog can be extremely rewarding. But it is also a very big commitment that demands time, money, and care. Every dog is different, so if you are considering getting one, you should research which kind of dog is best suited to you.
What dogs need:
A safe and suitable environment
Toilet breaks throughout the day
A daily routine including regular exercise and play time
A balanced diet
Grooming
Training
Vaccinations, flea, tick and worm treatment
Pet insurance
A microchip and a collar and tag when out in public – this is a legal requirement
(Information supplied by Dogs Trust. For further information on owning a dog, visit www.dogstrust.org.uk)
Your views
To create this feature, we asked members of our online communities what their pets mean to them after brain injury. You can join the discussion on our HealthUnlocked forum, or by exploring the Facebook post below:
Back