Overview
One of the most common issues reported by brain injury survivors contacting Headway's helpline or posting on our social media platforms is the profound and debilitating impact that memory problems can have on their lives and relationships.
Our Action for Brain Injury Week 2020 campaign, Memory Loss: A campaign to remember, aims to raise awareness of the ways in which memory problems can affect brain injury survivors and their families.
In January 2020, we launched a survey into the effects of memory loss, to be completed by brain injury survivors or their family members and carers acting on their behalf. We advertised the survey via our website, social media and Headway's network of groups and branches across the UK. The survey was completed by 2,150 participants, providing a large sample to gain an accurate picture of the difficulties memory problems can cause.
The results are striking, with 85% of survivors experiencing a negative impact on their lives and 65% feeling that their personal relationships have been negatively affected as a result of their memory problems.
In addition, survivors told us about the daily challenges caused by an overall lack of awareness. 72% feel that the people in their lives do not understand their memory problems and 81% feel that their lives would be improved if they did. 
These findings highlight the vital importance of raising awareness of this often-hidden effect of brain injury, with many survivors continuing to struggle long after the
initial injury.
Key findings
70% of brain injury survivors struggle to recall personal memories, such as their wedding or the birth of their child
65% of brain injury survivors feel that their personal relationships have been affected as a result of their memory problems
85% of brain injury survivors feel that memory problems have a negative impact on their life
72% of brain injury survivors feel that the people in their life don't understand their memory problems
71% of brain injury survivors feel unfairly judged or treated as a result of their memory problems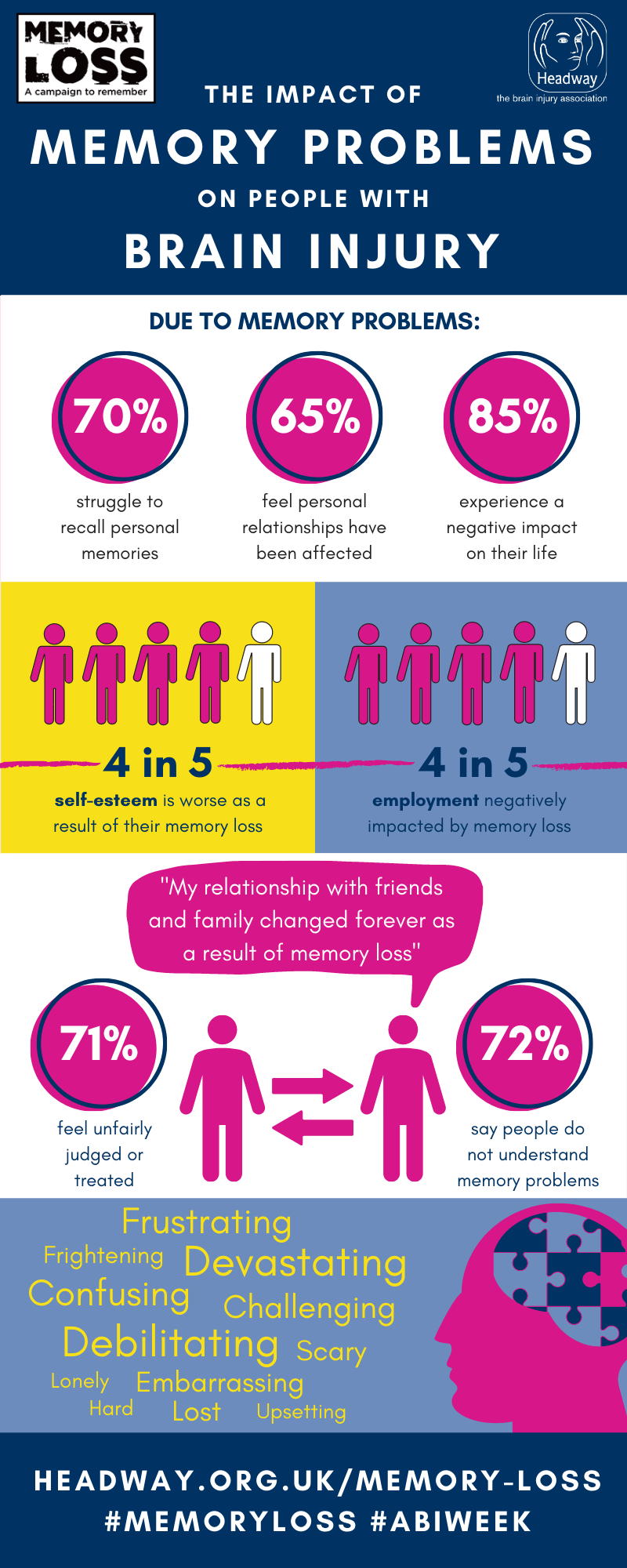 Back