Mince Pie Morning
Tis the season…to eat mince pies!
Throughout December, get in the festive spirit by holding a Mince Pie Morning for Headway!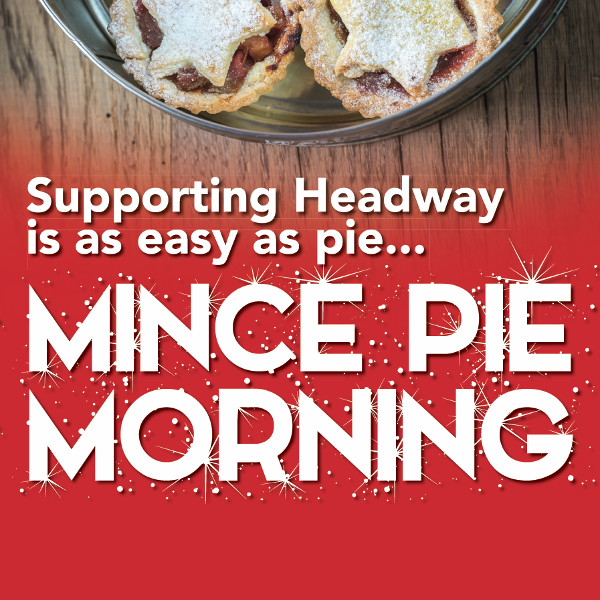 How to get involved
There are plenty of ways to ensure you don't miss out on some tasty festive treats while supporting those affected by brain injury.
Get together with colleagues for an office meeting with mince pies and ask for a donation from each participant. 
Host a mince pie coffee morning with friends and family at home and ask for a donation from each participant. 
Bake your own mince pies and sell them for a donation.
Get festive and raise funds to improve brain injury! Click on the sign-up now button to download your Mince Pie Morning fundraising pack:

Every mince pie eaten and every donation made equals more funding towards our vital support for those affected by brain injury.
---
#MincePieMorning
Don't forget to share your photos with us on social media using the hashtag #mincepiemorning!
Whether you're an individual or an organisation, we encourage you to use your mince pie morning to highlight the subject of brain injury by sharing your support, your lived experience, and your fundraising events and activities across email and social media.​
---
Watch this video for ideas of ways to get involved
---
Paying in your fundraising
We have made it as easy as pie to make a donation at a Mince Pie Morning!
Text donate
To make a quick, easy text donation of £5, £10 or £20:
Text MPM5 to 70085
Text MPM10 to 70085
Text MPM20 to 70085
Texts will cost the donation amount plus one standard network rate message, and you'll be opting in to hear more from us.
If you would like to donate £5 but don't wish to hear more from us, please text MPMNOINFO instead.
Make a larger donation!
Hit the donate button to donate an amount of your choice online.
---
Fundraise for us
Your support powers our services. Every pound raised will help brain injury survivors, their families and carers access support.
Find out more