The company has been working tirelessly to organise two key events which have raised valuable funds for Headway's front-line services.
It raised more than £5,800 during its Rehabilitate Rally 2019 - aka 'Wacky Races' last month. 
The company drew a line around the 594-mile perimeter it serves across the North and Midlands and undertook a number of maverick fitness related challenges– even getting clients involved.
It also raised more £3,500 for Headway at its MDT Spotlight on Vocational Rehabilitation conference where all delegate fees were paid directly to Headway and Rehabilitate Therapy, along with Steve Wiseman Associates and Reconnect Psychology paid all event costs; venue and catering.
The event was attended by more than 70 professionals, such as case managers and solicitors, who support survivors following a brain injury.

Vocational rehabilitation, whether that be paid or voluntary work, or education, is a hugely important aspect of the work of Rehabilitate Therapy, and a client's rehabilitation journey – so the company chose to dedicate a whole day to the subject, delivering thought inspiring presentations and hosting workshops.
Phil Crowther, Business Director at Rehabilitate Therapy, said: "Rehabilitate Therapy has grown continually for the last seven years and we have often discussed giving back and Headway has always been the standout charity we wanted to support.
"This year, we reached a point in our growth where we could plan something progressive and exciting that would also engage our team - plus 2019 was the right time to partner with Headway, especially as it is the charity's 40th anniversary year.
"As a family business we have to be selective about what we do – both financially but also from a time perspective. The initiatives we have dived into this year with Headway have been easier and achievable because of the partnership with the guys at Headway, and also the fantastic work of our excellent associates – not to mention partnership with Steve Wiseman and Dave at Reconnect. 
"We have not been raising funds for the charity we have been raising funds with the charity – which has made the experience so much more rewarding."
Jo Plant, Director of Fundraising at Headway, said: "We rely on great companies like Rehabilitate Therapy to support us in our efforts to help brain injury survivors and their families.
"Thank you so much to everyone who took part and contributed at these events. The funds raised will enable us to directly help people whose lives have been devastated by the consequences of brain injury."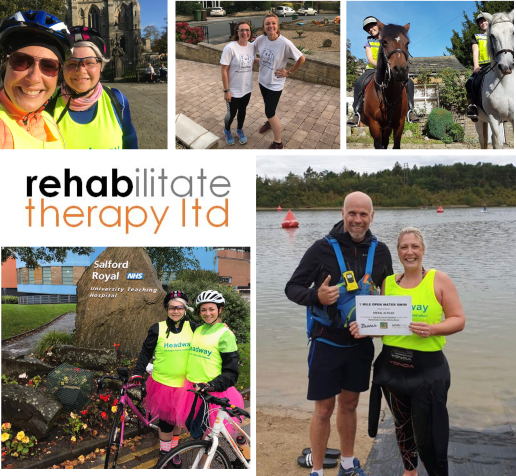 Back