The Private Members' Bill will have its second reading in the House of Commons on 3rd December 2021. The Bill aims to commit the government to prepare and publish a strategy document designed to meet the needs of people living with ABI.
Launching the Bill, Chris Bryant, the MP for Rhondda and Chair of the All-Party Parliamentary Group for Acquired Brain Injury, said: "Acquired brain injury affects more than one million people living in this country.
"We really need to be able to give people back their quality of life after they have had an acquired brain injury. Unfortunately in the UK, we haven't got a national strategy which copes with problems in the Ministry of Defence, housing, education, the health service…so many different departments.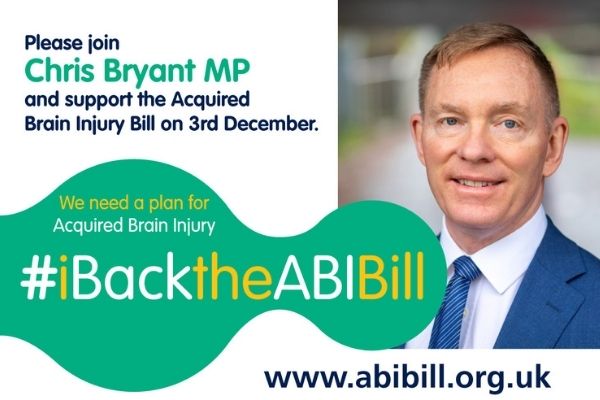 "That's why my Acquired Brain Injury Bill would require the government to produce a strategy for acquired brain injury."
Peter McCabe, Chief Executive of Headway, said: "This is an important opportunity for us to highlight the challenges that brain injury survivors face every day.
"For years, Headway has been championing the rights and needs of brain injury survivors, carers and families in parliaments across the UK. But it is clear that a cohesive government strategy that commits all departments, from justice to sport, education and health, is urgently required.
"We need decision-makers to commit to improving services across the board for brain injury survivors and their families and this Bill aims to do just that."
The Bill has already gained cross-party support from a number of MPs but Headway is encouraging anyone with an interest to contact their MP and ask them to support the campaign.
Peter continued: "We are grateful to Chris for his passionate support of brain injury survivors and families and have offered the charity's full support in getting this Bill passed.
"We are also encouraging anyone affected by brain injury to pledge their support. If you are passionate about improving life after brain injury, please contact your MP, tell them about your brain injury journey, what services you would like to see improved and ask them to back this Bill."
Back the ABI Bill
You can find further details of the Bill here.
If you'd like to tell your MP about the Bill and ask them to back it, download our template letter to get started.
Back