For Mick, several months of training and careful planning, followed by a week in the saddle, culminated in an incredible sense of achievement and a phenomenal fundraising total of £6,310! 
Mick was supported throughout his challenge by his wife Alison and the couple's dog Roxy, who travelled alongside him in a campervan to act not only as lodgings at each stop, but also as a support vehicle keeping track of Mick's progress and keeping him fed throughout his journey!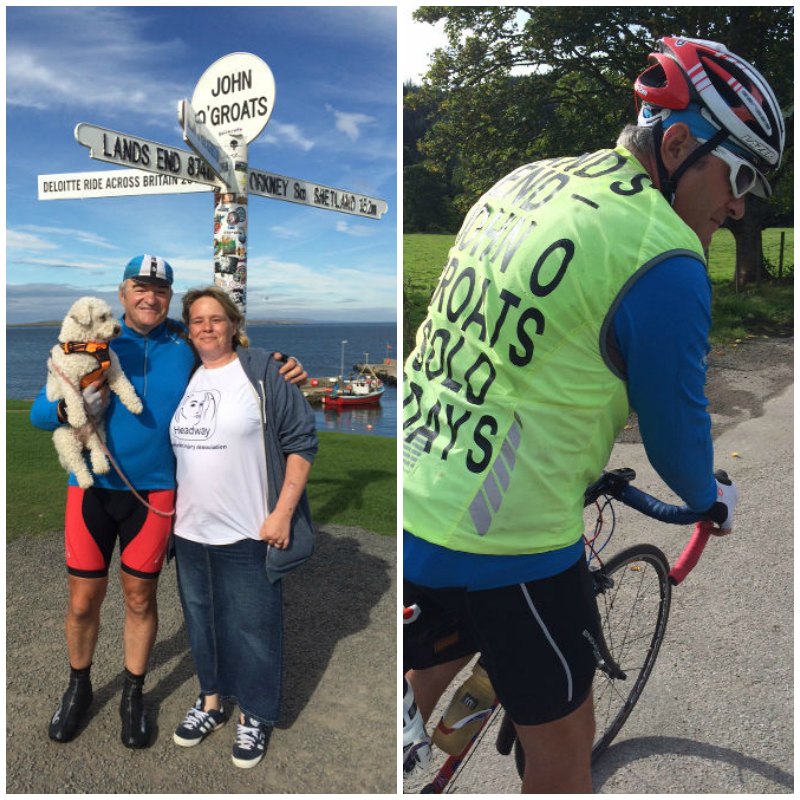 Mick's challenge was filled with long days and little sleep. He had decided that his route would avoid major A roads, opting to take in as much of the UK's scenery as possible. This decision significantly lengthened his journey and Mick knew that he had a mammoth challenge ahead of him, but the incredible £3,000 which he had already raised for Headway served as excellent motivation to keep pedalling.
The ride was not without its difficulties, from the relentless climbs of the Devon and Cornwall hills (which saw Mick cycling 110 miles and climbing just under 10,000 feet in one day,) to an unexpected detour on day 5 in which he cycled 10 miles in the wrong direction before having to turn back the way he had already come! Despite this, the wonderful encouragement that Mick received along the way made the journey worthwhile.
Mick puts his amazing success down to the support of his family, friends and church back home in Saffron Walden, many of whom joined him at different parts of the challenge, including his best friend Glenn who cycled a leg of the journey on his wife's pink mountain bike, complete with basket on the front!
We are so grateful to Mick for his incredible efforts which will allow Headway to continue to support brain injury survivors across the UK! We asked him to provide his top tips for other keen cyclists who are considering taking on their own challenge:
Plan, plan and plan some more
Set a daily target and stick to it
Relax and just keep going
Eat and drink lots
Keep the final goal in sight, especially when suffering
Enjoy it!
Get involved
Headway offers a range of treks and challenges in the UK and across the world. 
Click here to find the perfect challenge for you. 
Back