Once a year, Headway's members, friends and supporters come together to pay tribute to some very special people: brain injury survivors, carers, volunteers and campaigners whose personal achievements have earned the admiration of everyone around them. Their stories are moving and inspirational.
Three inspirational people have been nominated for the award: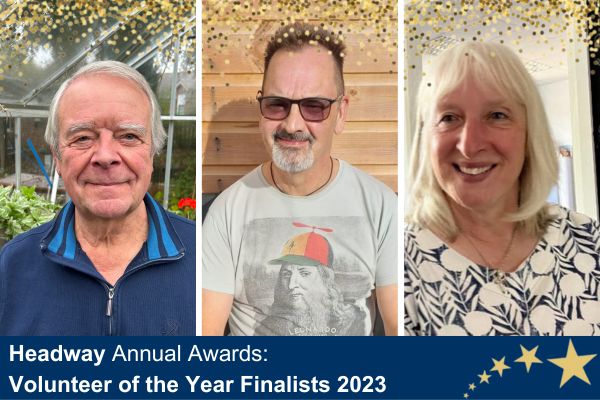 Meet the finalists
WINNER: Volunteer of the Year finalist John Marriage:
For over a decade, John Marriage, 78, has volunteered for local brain injury charity Headway Basingstoke, going above and beyond to improve the lives of brain injury survivors.
John was nominated for the award by Daniel Snyman from Headway Basingstoke. Daniel said: "John's impact at Headway Basingstoke cannot be overstated. He has made meaningful connections with our clients, acting as a beacon of support, reassurance, and empathy."
Volunteer of the Year finalist Steve Thomas:
Steve Thomas, 59, from Stafford is a double brain injury survivor who's being recognised for his commitment to helping others with brain injuries and people struggling within the community.
Although Steve's injuries have affected his mobility, and he can get tired quickly, this hasn't stopped him from improving the lives of others. He's been volunteering at brain injury charity Headway South Staffordshire for nine years.
Volunteer of the Year finalist Joy Walsh:
Joy Walsh, 67, from Mickleover, became involved with her local brain injury charity, Headway Derby in 2006. She has been committed to its mission to improve the lives of people with brain injuries ever since.
She was nominated by Emma Morris from Headway Derby, who explained the crucial role Joy plays. 
"Joy has been supporting Headway Derby for over 14 years and does so much. She was the admin assistant and volunteer coordinator for Headway Derby. Due to funding cuts, Headway Derby unfortunately had to make Joy's role redundant, so she stepped down as a paid employee. However, she continued supporting Headway Derby as a volunteer and has continued to do so ever since. Whenever Headway Derby needs support, Joy is the first to put herself forward."
---
Congratulations to all of this year's finalists!
Back