Once a year, Headway's members, friends and supporters come together to pay tribute to some very special people: brain injury survivors, carers, volunteers and campaigners whose personal achievements have earned the admiration of everyone around them. Their stories are moving and inspirational.
Three inspirational people have been nominated for the award: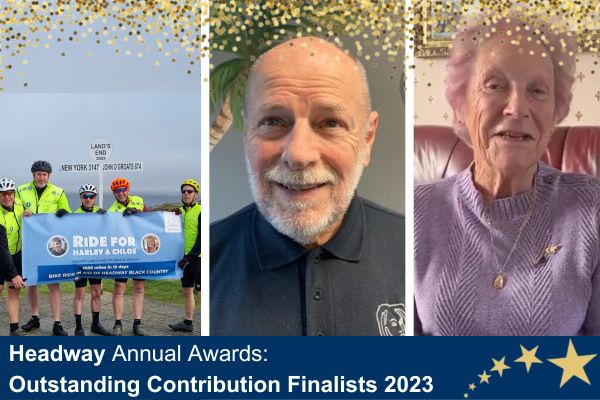 Meet the finalists
WINNER: Stephen McAleese Outstanding Contribution to Headway finalist Judy Tilbury:
Judy Tilbury, 83, from Hassocks, has been involved with her local brain injury charity Headway Sussex for 26 years. In that time, she has raised a staggering £30,000 and used her personal experience of loss to help others - despite also suffering a heart attack and battling cancer.
Judy is a fundraiser whose unwavering dedication has made an incredible difference to the lives of brain injury survivors.
Stephen McAleese Outstanding Contribution to Headway finalist Paul Cadwallader:
West Midlands man Paul Cadwallader organised a monumental group bike ride in memory of two teenagers who tragically lost their lives.
Paul and his group undertook the famous 1050-mile bike ride from Lands' End to John O'Groats – in just 12 days. In an impressive feat of endurance and determination, the team covered an average of 90 miles every day.
The cycling team's initial objective was to raise £4000, but they far exceeded this, raising closer to £18,000.
Stephen McAleese Outstanding Contribution to Headway finalist Ron Payne:
Ron Payne, 80, from West Woodburn, Hexham, became involved with Headway after his late wife Heather sustained a traumatic brain injury in 2001.
Ever since, Ron has shown incredible dedication to improving the lives of local brain injury survivors while also being Heather's carer for many years. Sadly, Heather passed away five years ago, but Ron's passion for helping others has not wavered.
He's currently the Chair of Headway Northumberland, a local charity which helps people living with brain injuries and their loved ones.
---
Congratulations to all of this year's finalists!
Back