Once a year, Headway's members, friends and supporters come together to pay tribute to some very special people: brain injury survivors, carers, volunteers and campaigners whose personal achievements have earned the admiration of everyone around them. Their stories are moving and inspirational.
Three inspirational people have been nominated for the award: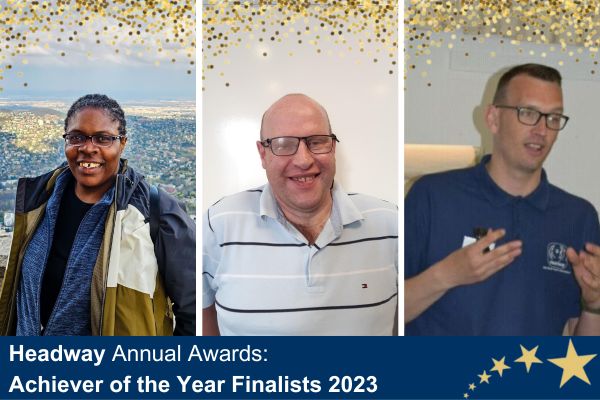 Meet the finalists
WINNER: Alex Richardson Achiever of the Year finalist Stef Harvey:
Stef Harvey from St Albans in Hertfordshire, is a brain injury survivor who has been nominated for her determination to overcome adversity.
In February 2016, Stef was white water kayaking on the Olympic course near her home when her life suddenly changed.
Stef has made incredible progress over the years and racked up an impressive list of accomplishments. These include delivering training to social workers with brain injury charity Headway Hertfordshire, creating and delivering training on Deaf awareness to hospital staff, and even attracting praise for her poetry from award-winning author Lemn Sissay OBE.
Alex Richardson Achiever of the Year finalist Graham Hill:
Graham Hill has sustained multiple life-changing brain injuries in his lifetime, including a brain tumour. However, despite his challenges, he remains optimistic.
He was nominated for the Alex Richardson Achiever of the Year Award by Diane Wilson from the brain injury charity Headway Ballymena. She said: "Graham is a shining example of not letting anything stand in his way.  
He attends every group session he can and is always first to welcome new members. He has thrown himself into the group and created a family more than an organisation of service users. Graham supports everyone on their journey, and everyone wants to see him do well."
Alex Richardson Achiever of the Year finalist David Jenkins:
David Jenkins, 40, a brain injury survivor, has been nominated for his incredible attitude and achievements since being left with life-changing injuries.
Carol Hopwood and Cathy Johnston from Headway Sefton nominated David for the Headway award. They said: "David lost all he had worked for when he was run over and has worked so hard to give back to the brain injury community. He has helped the branch grow and thrive and offers unwavering support to others who stumble through our door bewildered.
---
Congratulations to all of this year's finalists!
Back